A LIST WITH ALL THE NECESSARY REPAIRS AND MAINTENANCE WORK DONE TO MY KTM 690 ENDURO R
---
More than a decade ago I learned how to use my hands in combination with mechanic tools in a sometimes more, and sometimes less professional way. As a consequence, I'm doing the required maintenance work and repairs on my motorcycle by myself.

Overall I have to say that Чернотa is a very reliable KTM 690 Enduro R. In the meanwhile it has over 130.000 km or 80.000 MI on the Odo.

Down below, you will find an ongoing list with all the maintenance work and necessary repairs I did to Чернотa. There are also a few assorted maintenance pics with a maintenance description down below.


ONGOING MAINTENANCE LIST
DATE and MILAGE (km/mi):
REPAIR WORK:
2015/11 (2300/1400):
Purchase of my 690ty Model 2014 aka ЧERNOTA
2016/02 (2525/1565):

Oil+Filter change (Oil: Motul 7100 10w60), brake fluid change; fine shavings in old oil!, valve clearance check: EL:0,16mm, ER: 0,17mm, IL:0,10mm, IR: 0,13mm
2016/03 (5100/3160):
Valve check: EL:0,15mm, ER:0,14mm, IL:0,10mm, IR:0,12mm; rocker arms: Ok —> center punched both of them
2016/04 (6870/4260):
New front tire: Mitas E07 with new tube
2016/06 (9730/6030):
Valve check EL: 0,16mm (reshimmed to 0,13), ER:0,15mm (reshimmed to 0,10), IL:0,11mm, IR: 0,13
2016/07 (12252/7600):
Oil+filter change (new Oil: Meguin Megol Racer 10w60), fine metal shavings in metal sieve!
2016/07 (12300/7626):
New back tire: Mitas E07
2016/08 (16130/10000):
New front tire: Mitas Mefo Super Explorer
2016/08 (17200/10664):
Indicator relays change (old one defective)
2016/10 (19100/11842):
Oil+Filter change (new Oil: Motul 7100 10w60), fine shavings in oil sieve!
2016/10 (19510/12100):
New chain (DID VX2), new sprocket (Esjot), new chain wheel (Supersprox)
2016/11 (20205/12530):
Valve check, EL:0,13mm, ER:0,11mm, IL:0,09mm, IR:0,11mm), rockers OK, spark plugs: white like snow but OK, New Lithium battery mounted, new air filter,
2017/03 (22110/13700):
Brake fluid change, new rear +front brake pads, current Mitas E07 rear is done, mounted old Mitas E07 from 07/2016)
2017/04 (25093/15560):
New Mitas E07 Rear (old one lasted in total 10200km or 6300mi)
2017/05 (27559/17100):
New Oil+Filter, No metal shavings more visible, valve check: EL:0,13mm, ER:0,11mm, IL:0,09mm, IR:0,11mm) New front tire Scout K60 (Old Mefo front lasted 11429km or 7085mi), Indicator left rear: cable was broken
2017/07 (34974/21690)
Flat rear tire: New tube; indicator rear right: cable broken, new plate holder made of alloy/PC Material
2017/08 (37240/23090):
New Mitas E07 rear
2017/09 (39755/24650):
Valve check: EL:0,12mm, ER:0,11mm, IL:0,11mm, IR:0,11mm); Rocker arms: OK, spark plugs new after 40000km or 24800mi), air filter new, new oil+filter, no shavings in sieve visible), new front brake pads,
2018/04 (46030/28540):
New rear brake disc, Rear Tire is done, used PIRELLI MT21 is mounted
2018/04 (47110/29210):
!!! Valve check: EL:0,15mm (=+0,03mm!!!), ER:0,13mm (=+0,02mm!!!), IL:0,12mm (=+0,01mm), IR:0,12mm (=+0,01mm), Precautional rocker arm change (inlet and exhaust side), center punched OM SF13 rockers out, and new SF 15 center punched rockers in)
2018/04 –"–:
Valve clearance after change: EL:0,08mm, ER:0,10mm, IL:0,09mm, IR:0,09mm
2018/05 (47860/29670):
New front tire: MITAS E10, new rear tire: MITAS E07, New sprocket, chain and chain wheel (Esjot, DID VX2 and Supersprox), new rear brake pads, new rubbers in rear axle (front back ratio), new fuel filter
2018/05 (47900/29700):
??? Sometimes no acceleration when gear up; did a throttle adjustment, now everything is fine ???
2018/05 (50085/31050):
Front fork: cleaning and new oil+fork grease, Engine: new oil+filter (Meguin Megol Racer 10W60), No shavings in sieve visible, new clutch (old one started to slip), slipping didn´t went better … -_-
2018/05 –"– :
Stronger clutch basket springs from EBC obstructed, clutch slipping is gone
2018/10 (56950/35310):
New indicator lamp front right, new front brake pads, new rear tire Mitas E07, new front tire Maxxis 6006,
2018/12 (58170/35065):
New brake disc front (old was to thin), new rear brake pads
2019/03 (60320/37500):
Valve check: EL 0,08(=), ER 0,10 (=), IL: 0,11 (+0,02), IR: 0,10 (+0,01), Oil+Filter change (Meguin Megol Racer 10W60), air filter change, brake fluid change, 1 short piece of fuel line changed due to moisture leak)
2019/04 (63051/39180):
New Mitas E07 back tire and new Mitas E10 front tire + 2 new tubes mounted
2019/05 (65713/40832):
New right mirror, new right back indicator housing, new rear brake pads
2019/05 (67950/42222):
New Chain DID VX3 520 mounted, new sprocket mounted, new front wheel bearing mounted)
2019/07 (70292/43677):
Valve check (EVL: 0,09, EVR: 0,10, IVL:0,12, IVR: 0,11), oil+filter change, chain tension adjustment, new brake pads front mounted, cut a new thread for oil filter housing right hand side (old one was destroyed)
2019/07 (71570/44471):
New Mitas E10 on the front and rear, new lamp for license plate light
08/2019 (72737/45200):
New rear brake disc and rear brake pads
09/2019 (75600/47000):
Spring of the gear lever folding mechanism broken; mounted a new one with a new bolt.
10/2019 (80083/49600):
Valve check: EL 0,10 (+0,01), ER 0,10 (=), IL 0,12 (=), IR 0,11 (+0,01)
Rocker arms: OK, spark plugs new after double mileage usage over 40000km or 24800mi), air filter new, new oil+filter, a few fine shavings on the magnet visible), fuel filter changed
12/2019 (80501/50000):
New Front Tire: Mitas E10 Dakar mounted
04/2020 (83510/52000):
New back tire: Mitas E07-Dakar; new gear shift lever (old was broken)
05/2020 (88644/54500):
Strange behavior: After starting the enginge, throttle showed no response. Error code: 9x long 5x short – Throttle body voltage to low/high; after 5x times turning ignition on/off everything worked fine again.
05/2020 (89050/54750)
New Front Tire: Mitas E10 Dakar mounted + new tube
06/2020 (90121/56000)
New cush drive bearings, new rear wheel bearings, new chain with chainwheel and sprocket, new rocker arm shafts with new inlet- and exhaust rocker arms (the shafts where worn out after 90000km/56000mi), new oil+filter, indicator cable back right soldered, brake fluid change
10/2020 (100000/60000)
Overrun the 100.000 km or 60.000 mi mark.
11/2020 (101255/62900)
Oil+filter replaced (everything ok; just a few fine shavings on the magnet)
Valve check: EL 0,11 (+0,01), ER 0,11 (+0,01), IL 0,11 (+0,01), IR 0,09 (+0,01)
Sparkplugs: checked –> after 20.000km in duty still in good condition.
Stearing head bearing: changed for the first time.
Front Fork: cleaned and oil change
Main Swingarm Bearings: got changed for the first time due to moisture/some rust damage
Leverage back: the original pushing rod bearing got cleaned and greased; the two mainbearings of the main leaverage where done –> Totally rusty; therefore the leaverage was replaced with a good used part
The backshock was maintainanced for the first time by a specialised suspension company. The lower shockbearing was higly worn and one adjusting spring nut had a small crack. A stiffer spring was mounted at this opportunity.
Seat: The original seat had a crack and was replaced with a good used one.
The fuel filter for the front tanks got replaced.
04/2021 (10700/66500)
Strange ABS error: Light comes on about each 300-500 km during riding. Found a few few flawed cables around the stearing head area but didn`t solved the problem. (Im still working on this problem)
06/2021 (111360/69200)
Oil+filter changed (just a few shavings on the magnet and some strange dark powder=maybe dirt in the front sieve)
Valve check: EL 0,13 (+0,02), ER 0,13 (+0,02), IL 0,13 (+0,02), IR 0,11 (+0,02) (growing valve clearence depends on 30 degrees difference between last valve measuring service in winter and now in summer time), new front brake disk, new rear break disc+break pads, new sprocket+new chain, one new indicator lamp, new front light lamp, ABS problem is still existing – I´m still working on it :/
10/2021 (121271 km / 75.354 mi)
Oil+Filter change, plenty of shapes in gearboxarea and magnet visible, also again some dark powder in front sieve)
overheated small camshaft bearing which was ticking whilst using engine break–> two new bearings for camshaft; new fuel pump (because not enough pressure, new injector (old one was leaking), new fuel filter, exhaust manifold had a crack —> welded; ABS-Pump changed due to sporadic electronic error, new spark plugs, Valve check: EL 0,10 (-0,03), ER 0,11 (-0,02), IL 0,11 (-0,02), IR 0,08 (-0,02)
11/2021 (124.000 km / 77.000 mi)
The clutch started slipping slightly: New clutch plates, new clutch friction discs and new clutch springs
07/2022 (131.510km / 81.700 mi)
Oil+Filter change (just a few metal shapes on the magnet), airfilter change, front break pads swapped, sproket+chainwheel+chain renewed, Valve check: EL 0,13 (+0,03), ER 0,13 (+0,02), IL 0,13 (+0,02), IR 0,11 (+0,03)

ASSORTED MAINTENANCE PICTURES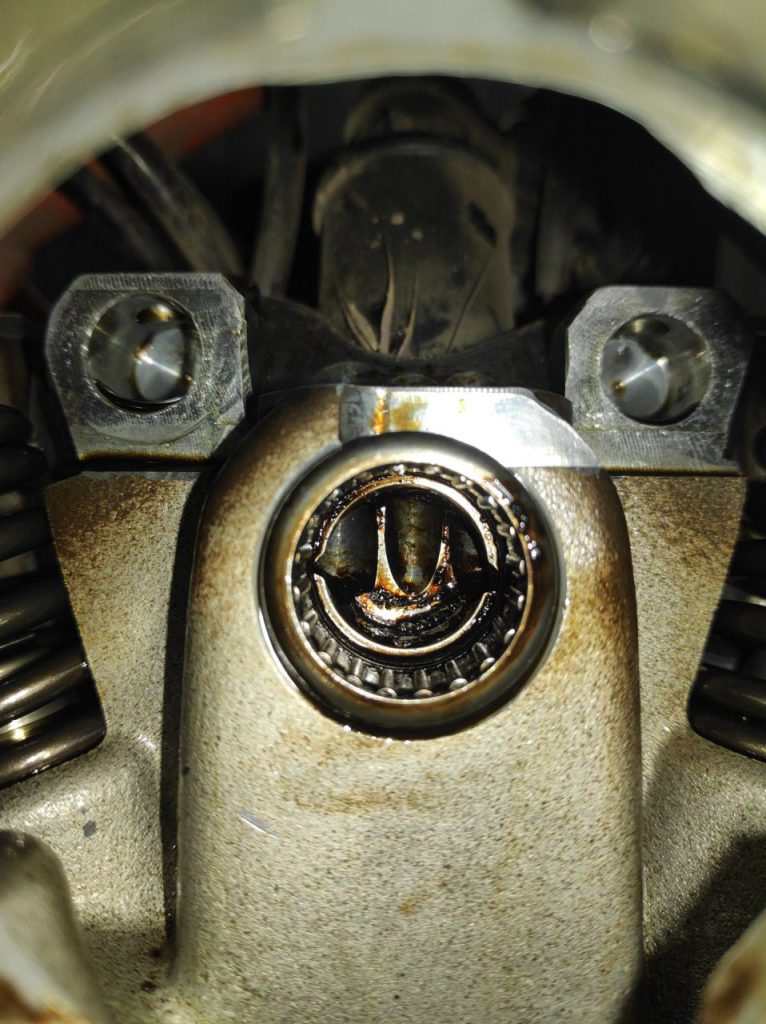 Odo: 121.271 km or 75.354 mi (first serious engine troubles)
---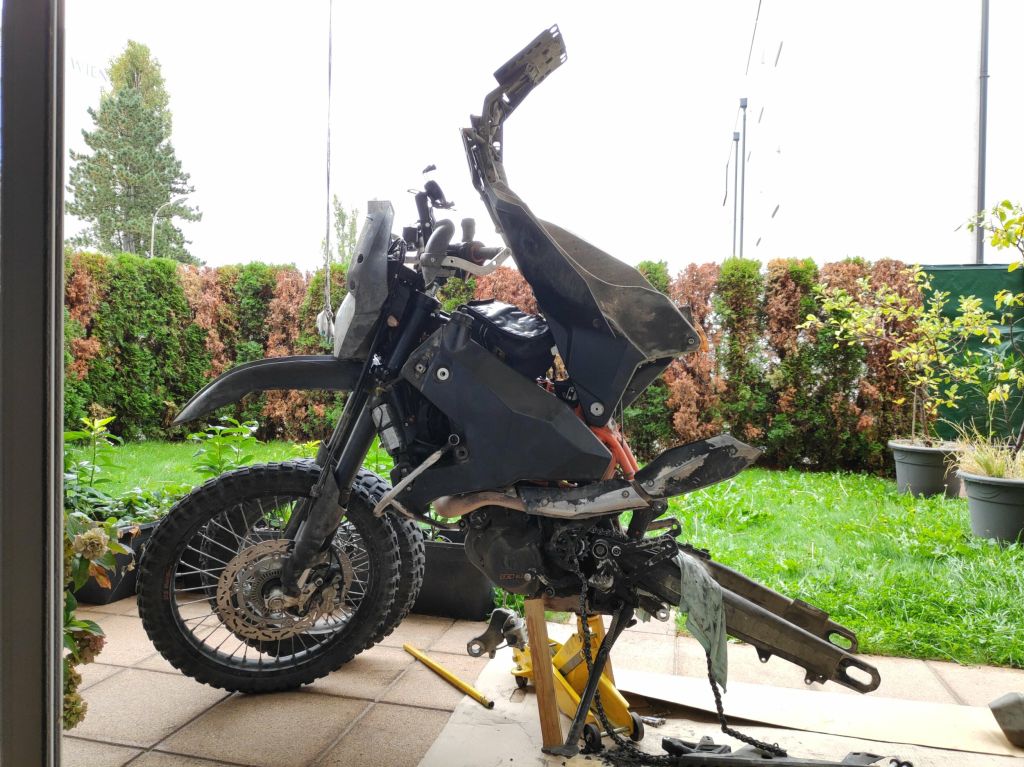 Odo: 101.255 km or 62.900 mi (many parts got maintained for the first time)
---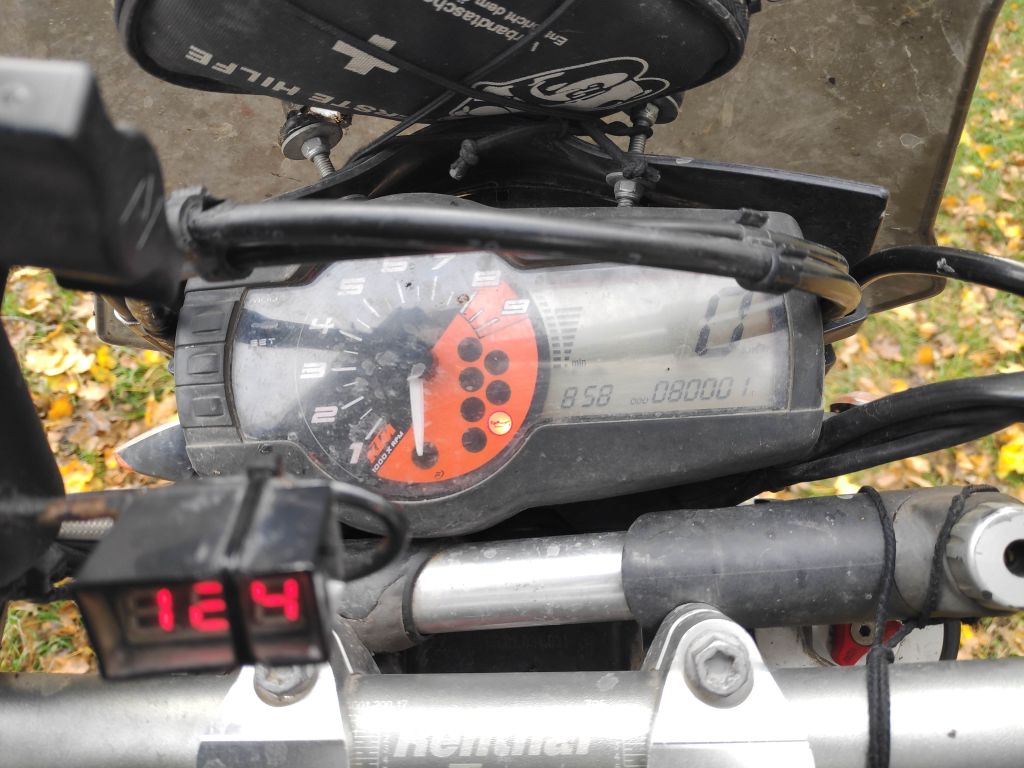 Odo: 80.083km or 49600mi (impressive reliability)
---
Odo: 60.320km or 37.500mi (everything fine)
---
Odo: 39.755km or 24.700mi (experimental conclusions)
---
Odo: 27 500km or 17 000mi
(a bad mistake included)