"AMALFI COAST"
One of Italy's most famous coastal roads follows the winding Amalfi Coast. On the eleventh day of our journey, Чернотa and I went up early for avoiding the tourist masses along this sightseeing road. Afterwards, our journey left Italy's western coast for the central Apennines Mountains, with their impressive landscape. More about it, you will find in the following ride report. Enjoy …
The last night under the roof …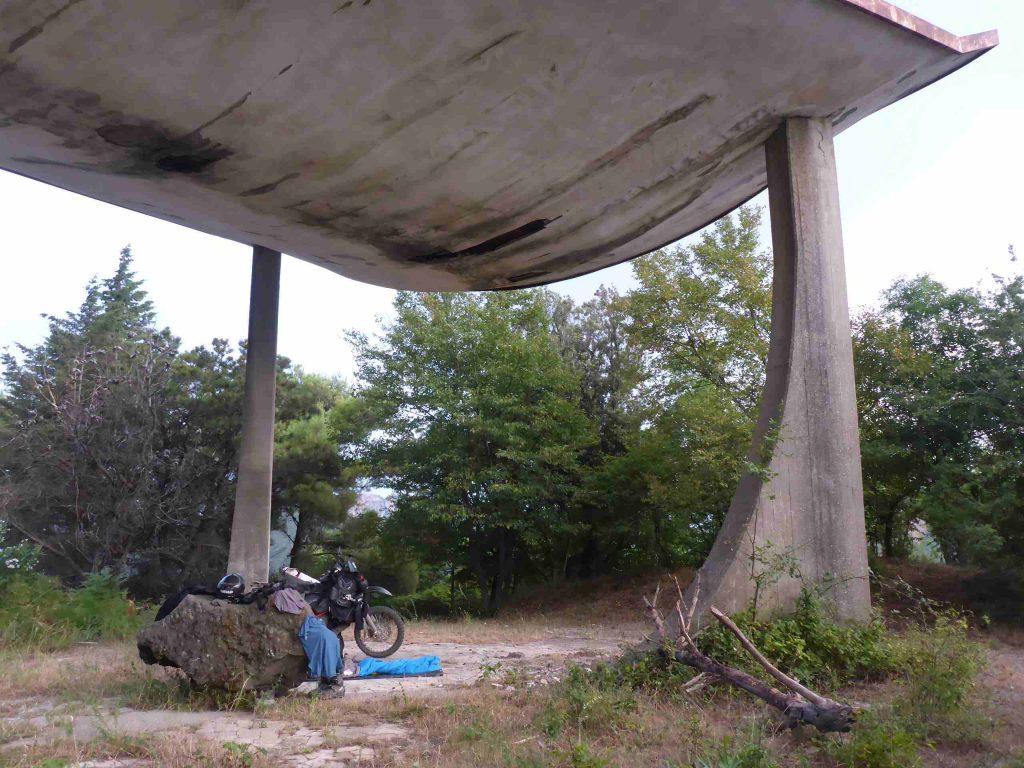 of this abandoned house of god was calm – I slept very well in my tentless shelter. After getting up and when I was done with all the morning routines tasks, …
I made a short walk around this spectacular built old chapel, before riding hill downwards …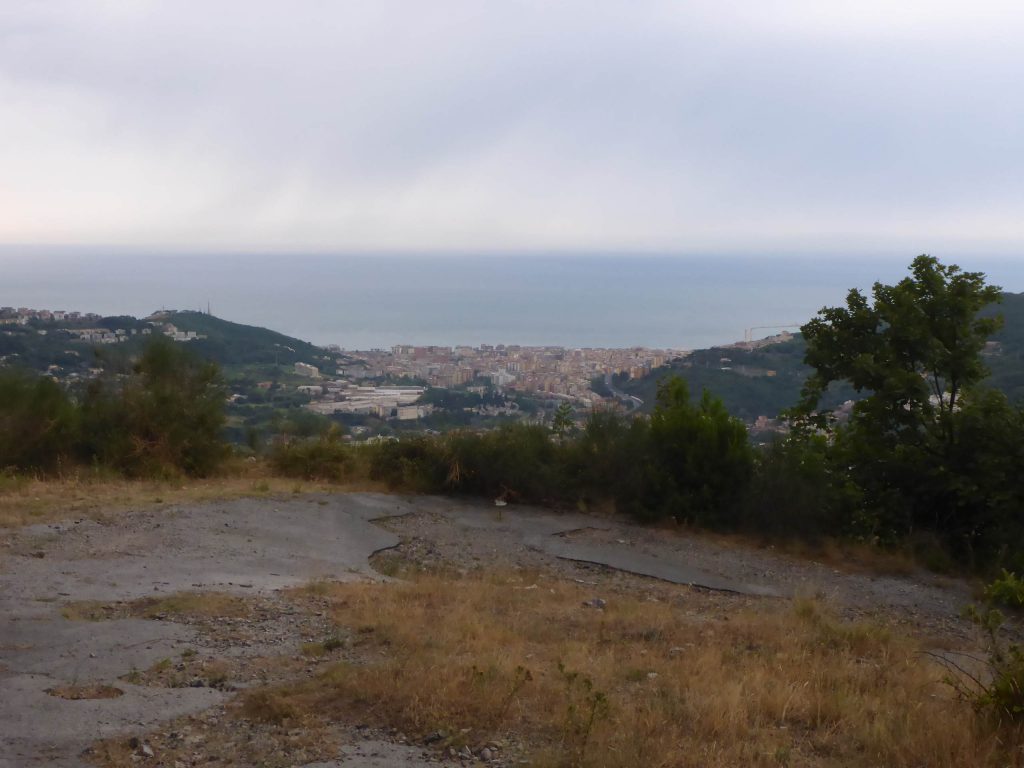 the less maintained trail, back to …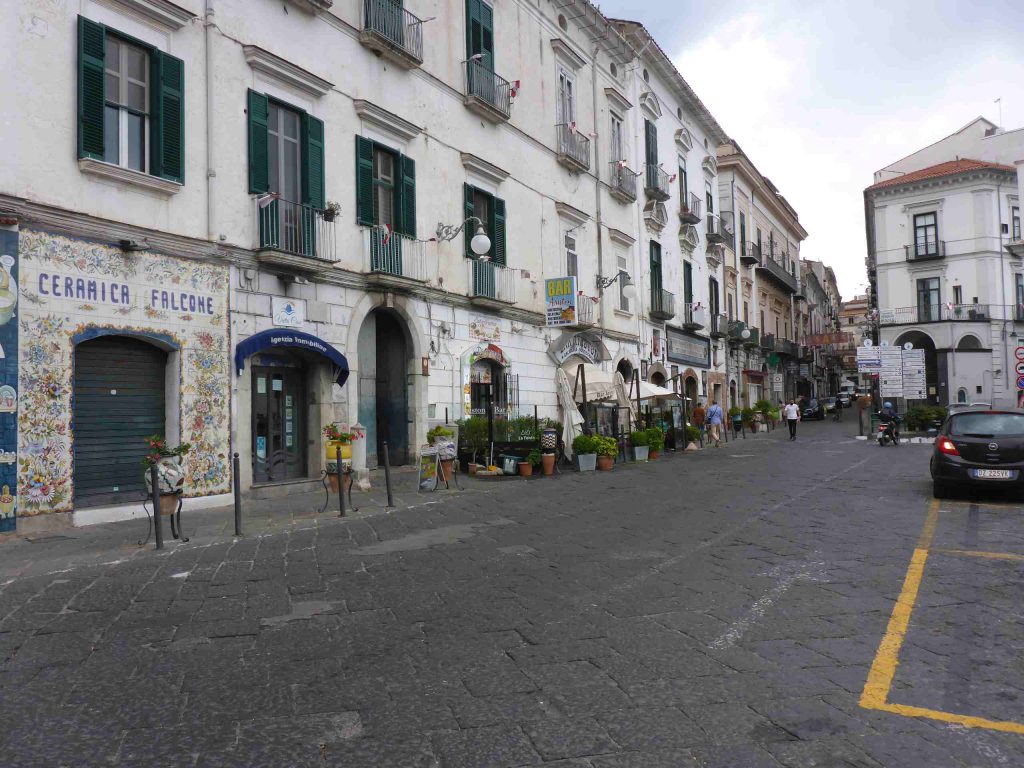 the city of Salerno. Lying at the entrance to …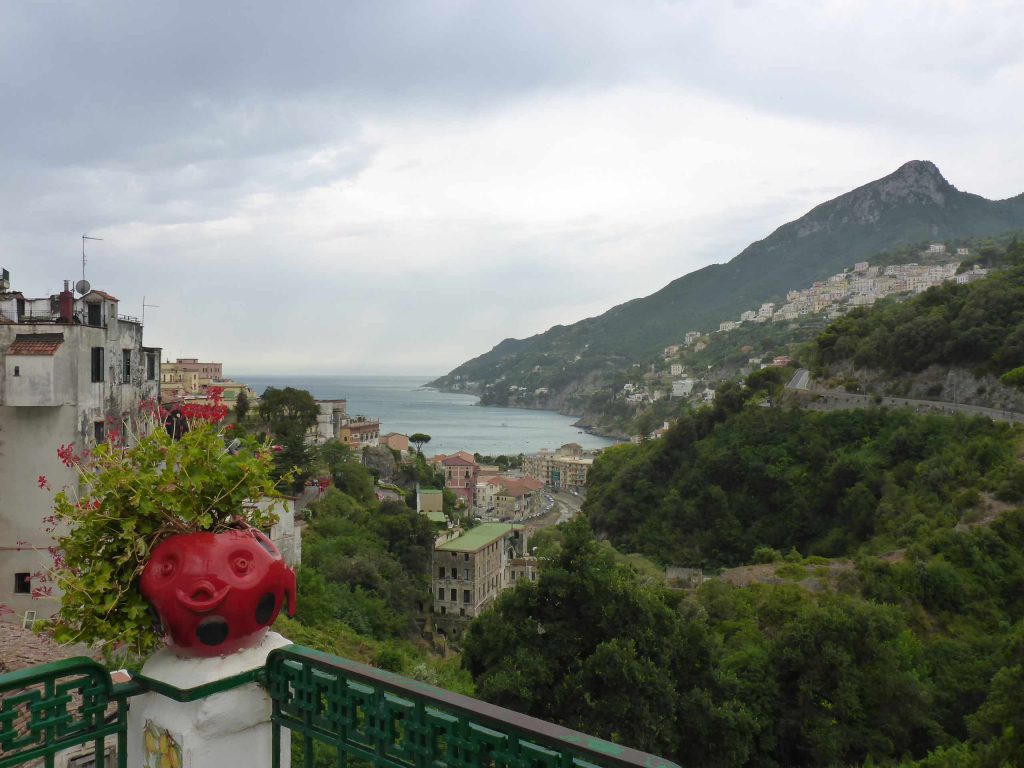 the famous Amalfi Coast, Salerno is heavily …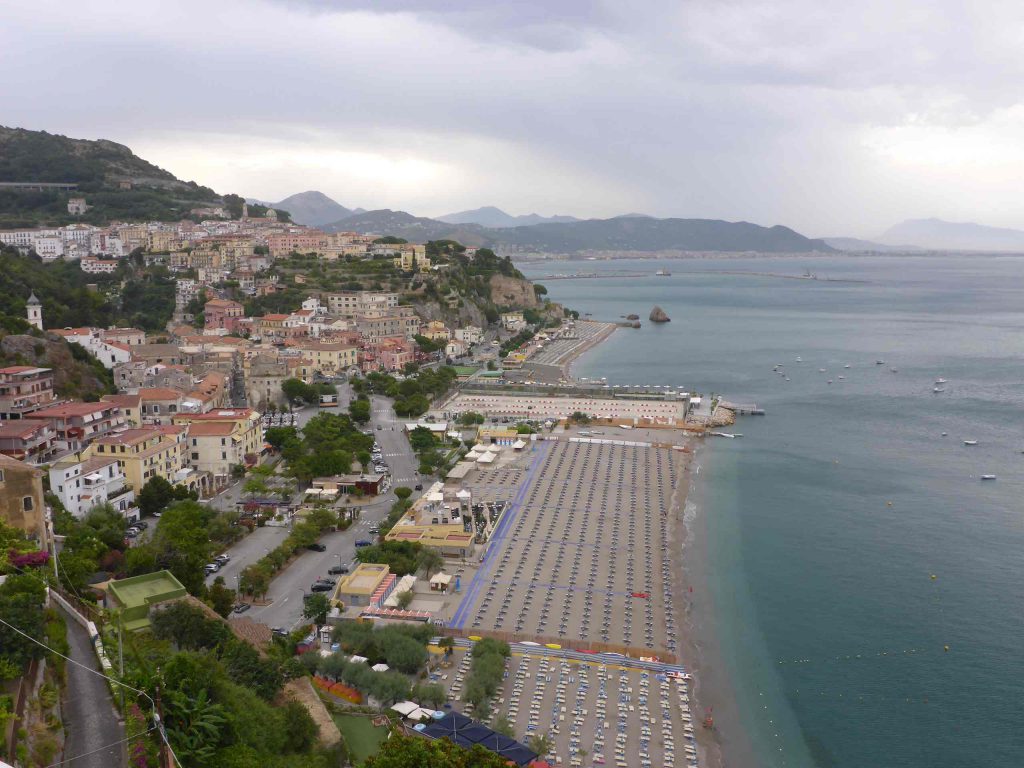 shaped from mass tourism. Чернотa and I quickly left this big city behind us and …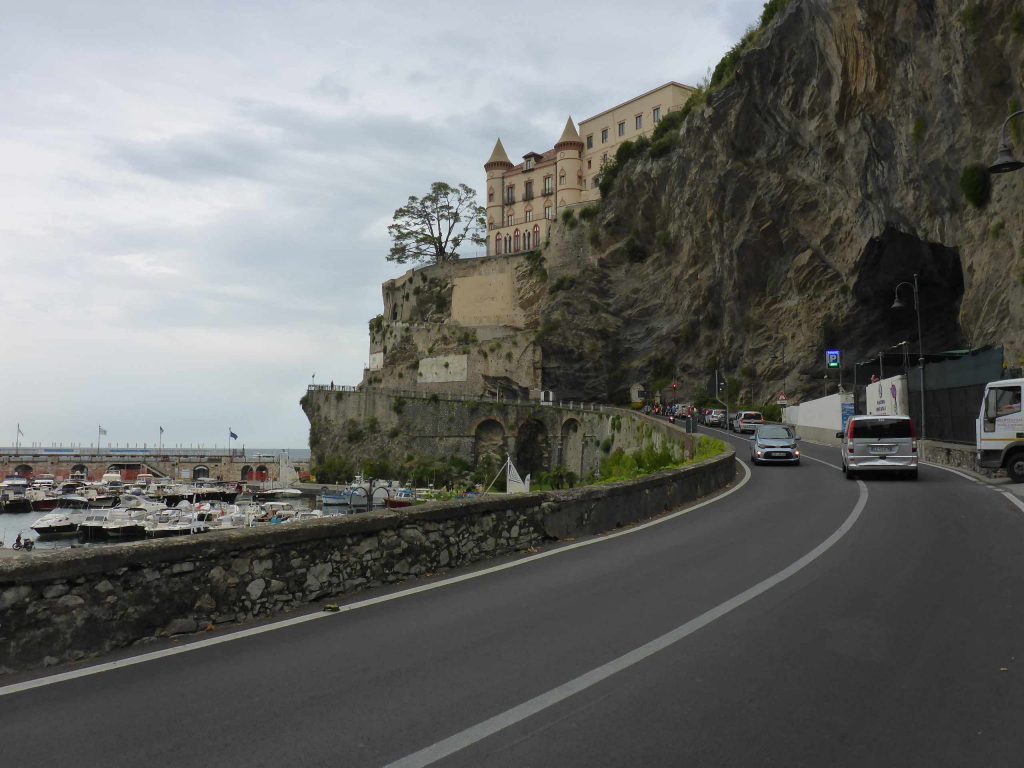 entered the Amalfi-Coastal-Road, which followed for about …
thirty kilometers (or about twenty miles) the …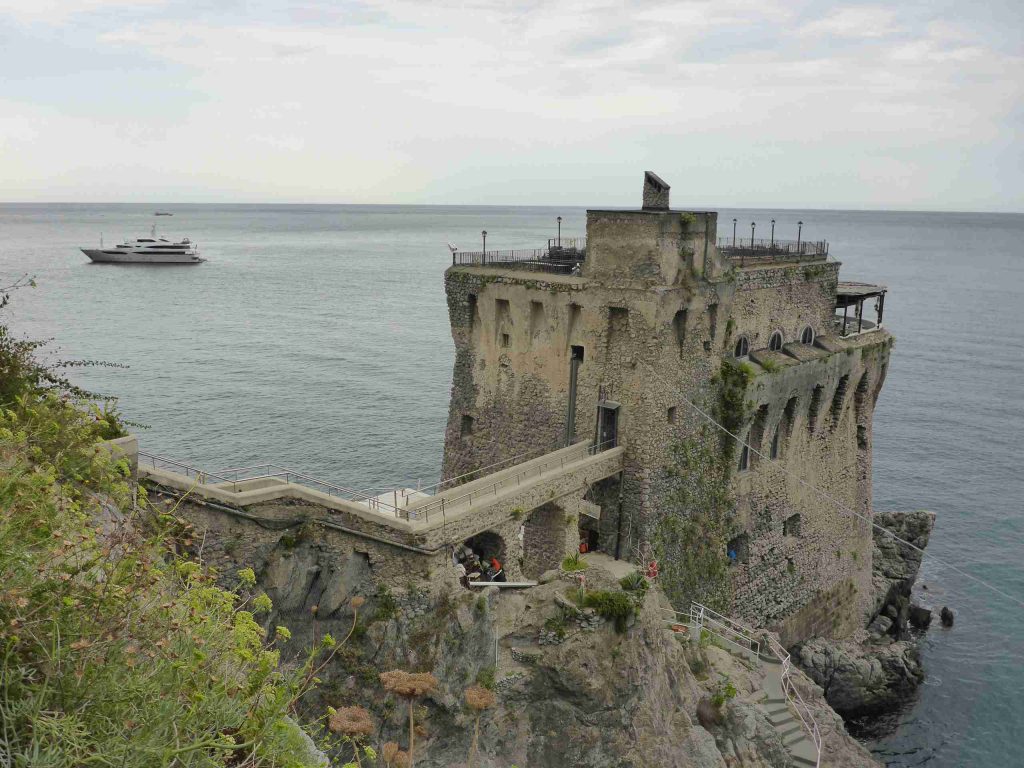 astounding …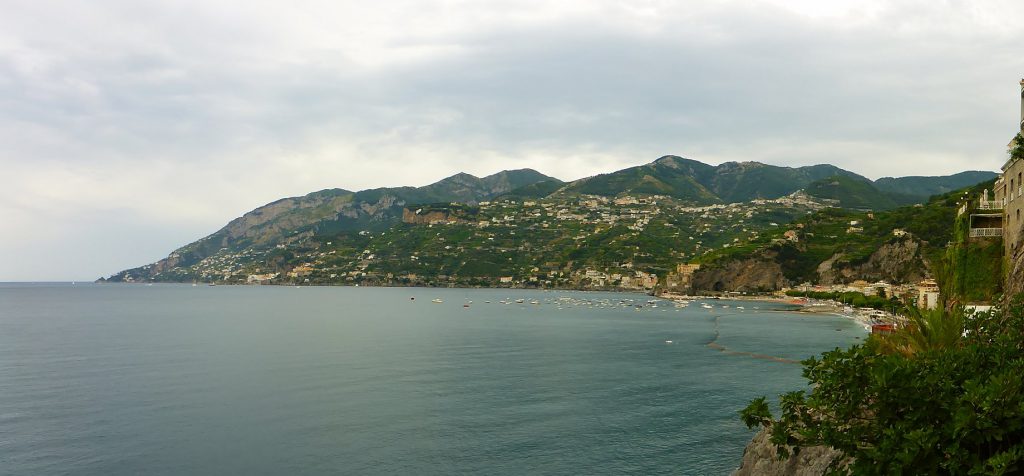 shoreline of …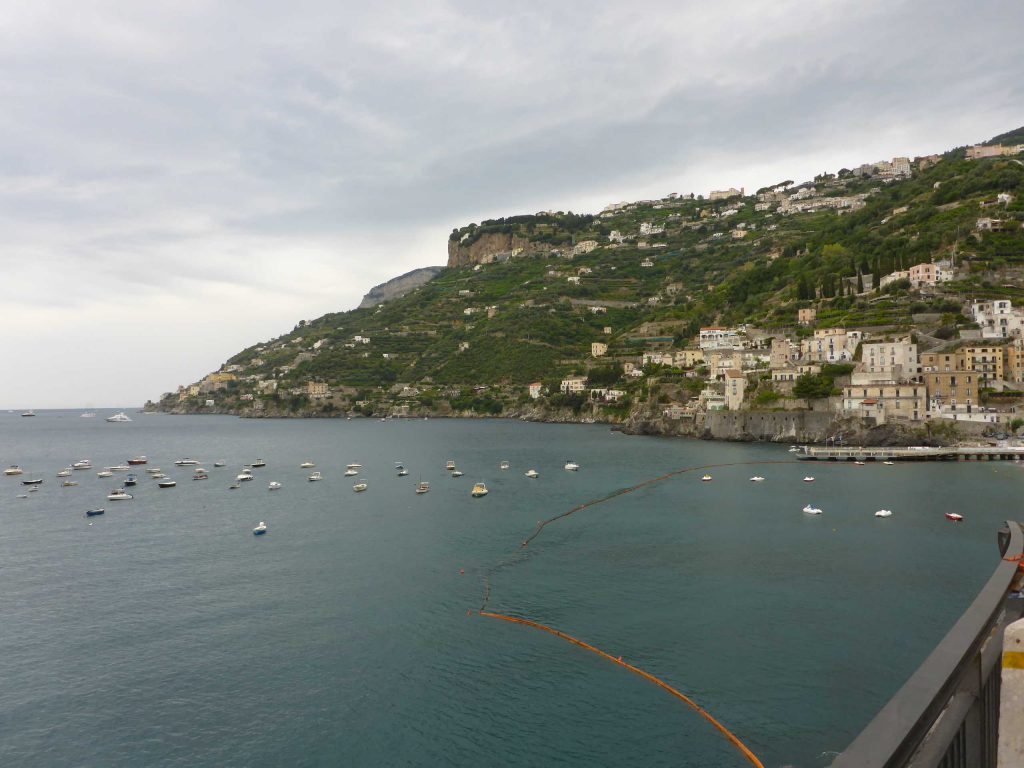 this part of …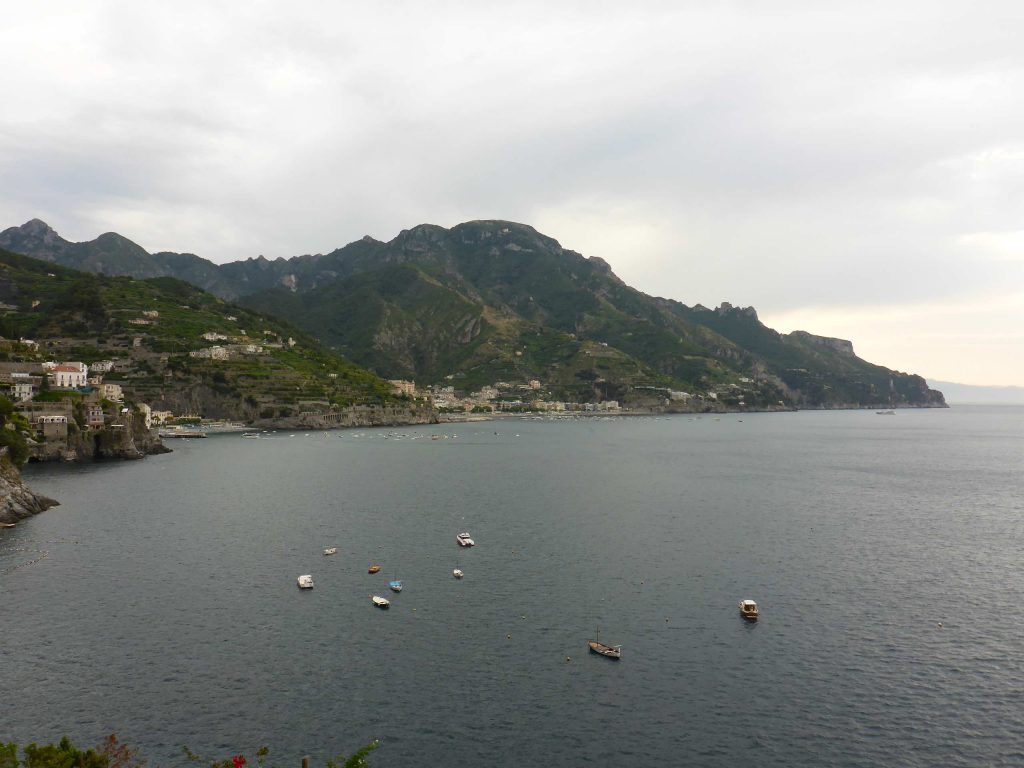 Western Italy. In …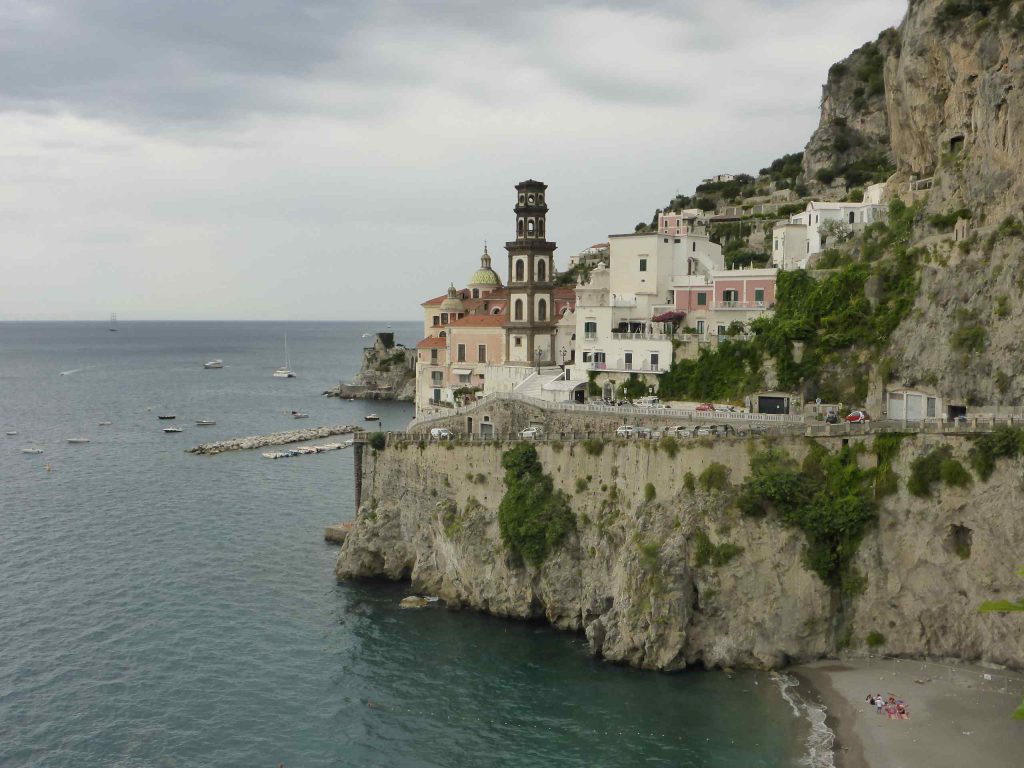 the pleasant village …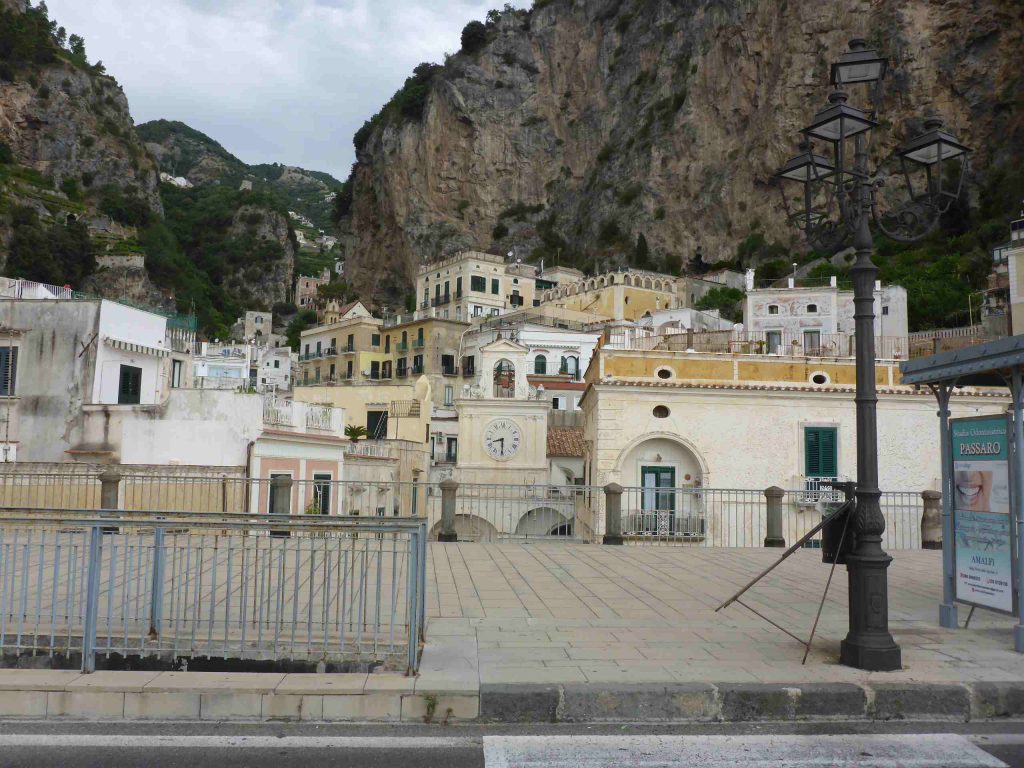 Minori we stopped for a short break and I enjoyed the vibes of …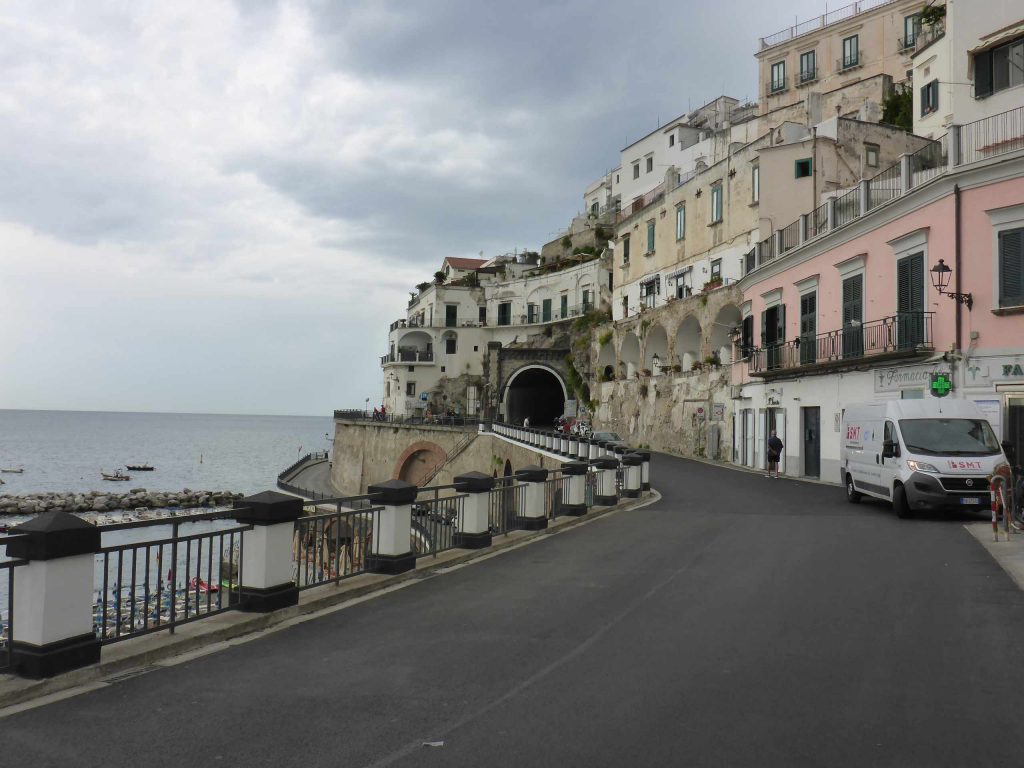 the narrow standing buildings combined with the classy Italian flair such old settlements emit. (I already have been here with my better half a few years ago, but back then, mass tourism made it nearly impossible finding a parking opportunity here for stopping/enjoying the village, so the pandemic also had its advantages)

Having …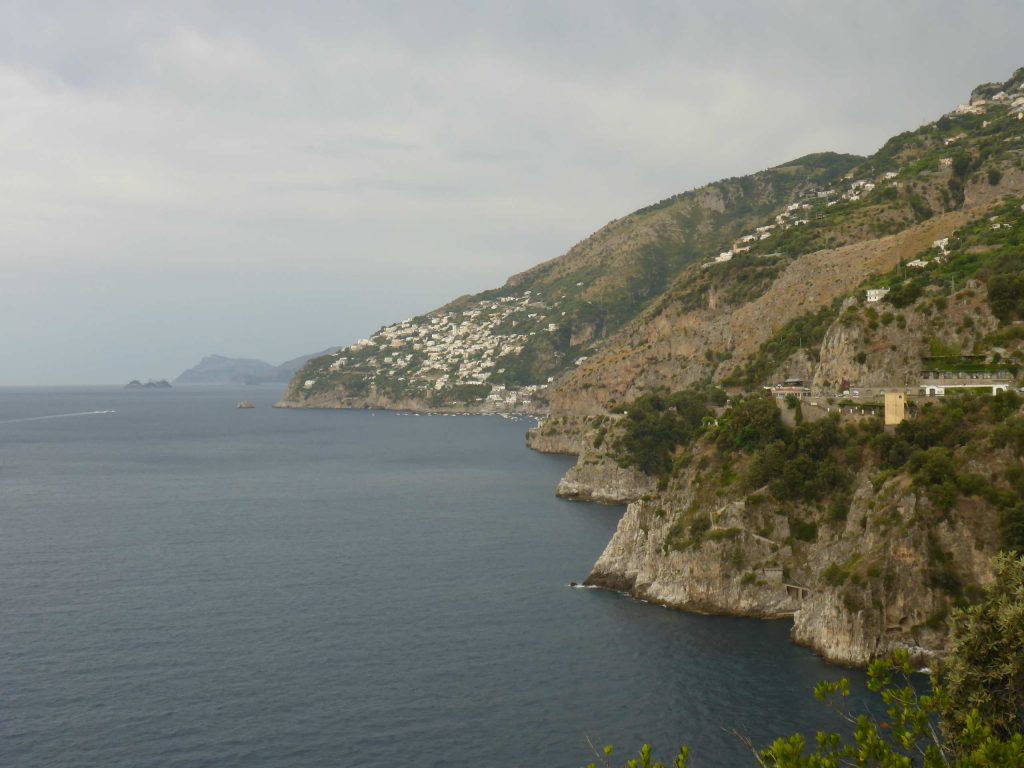 less space for building houses often resulted in …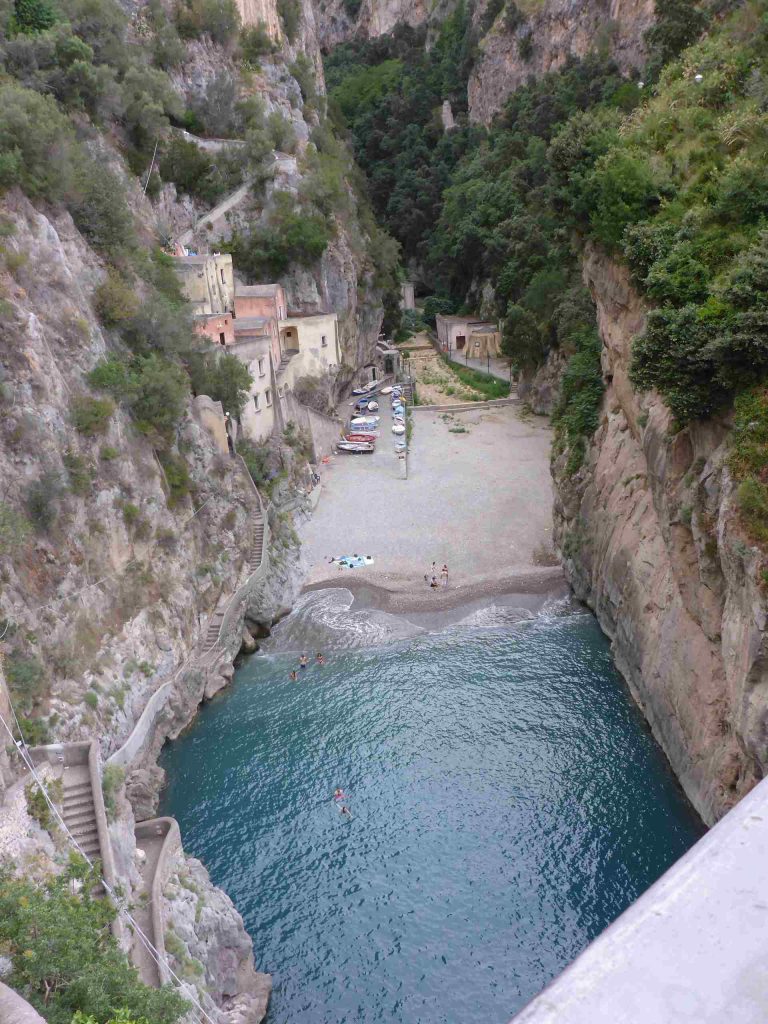 in adventurous building projects, how an arty …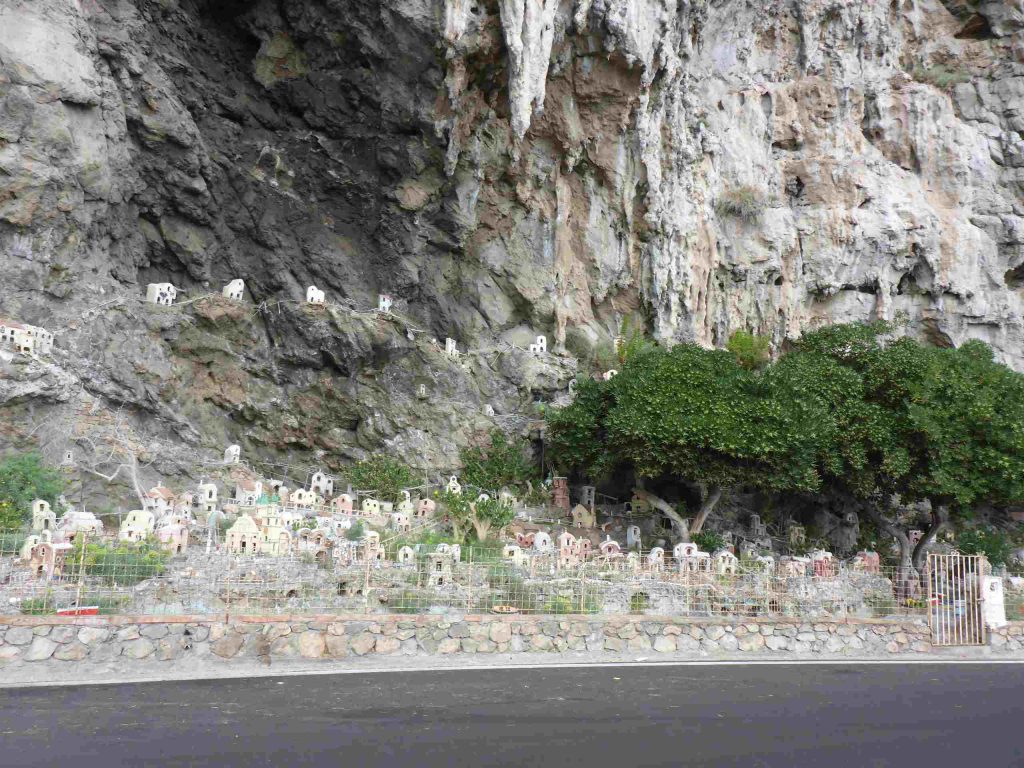 model of the coast, crafted into the rocks directly aside the road …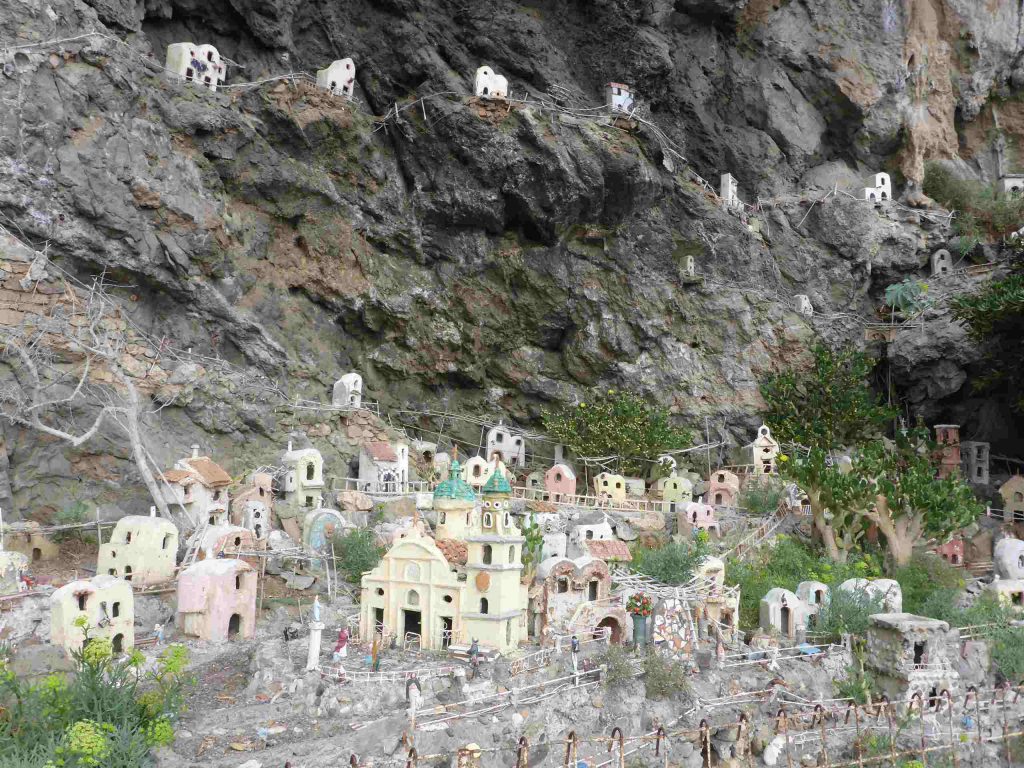 imposingly demonstrated.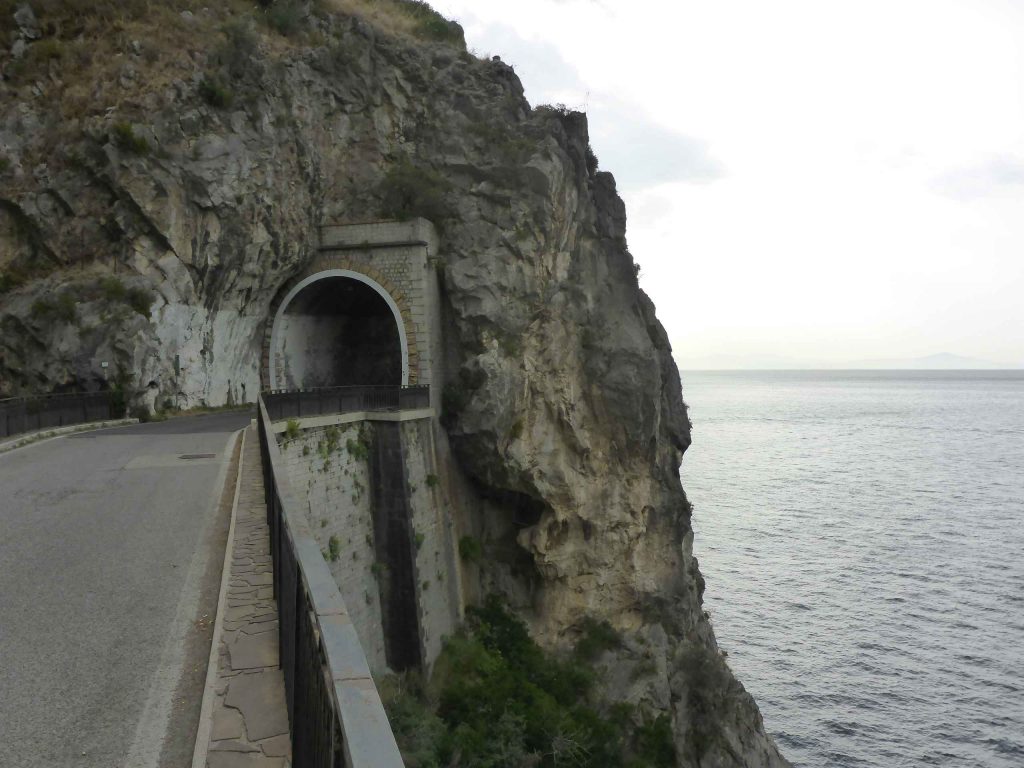 A few bends and tunnels later …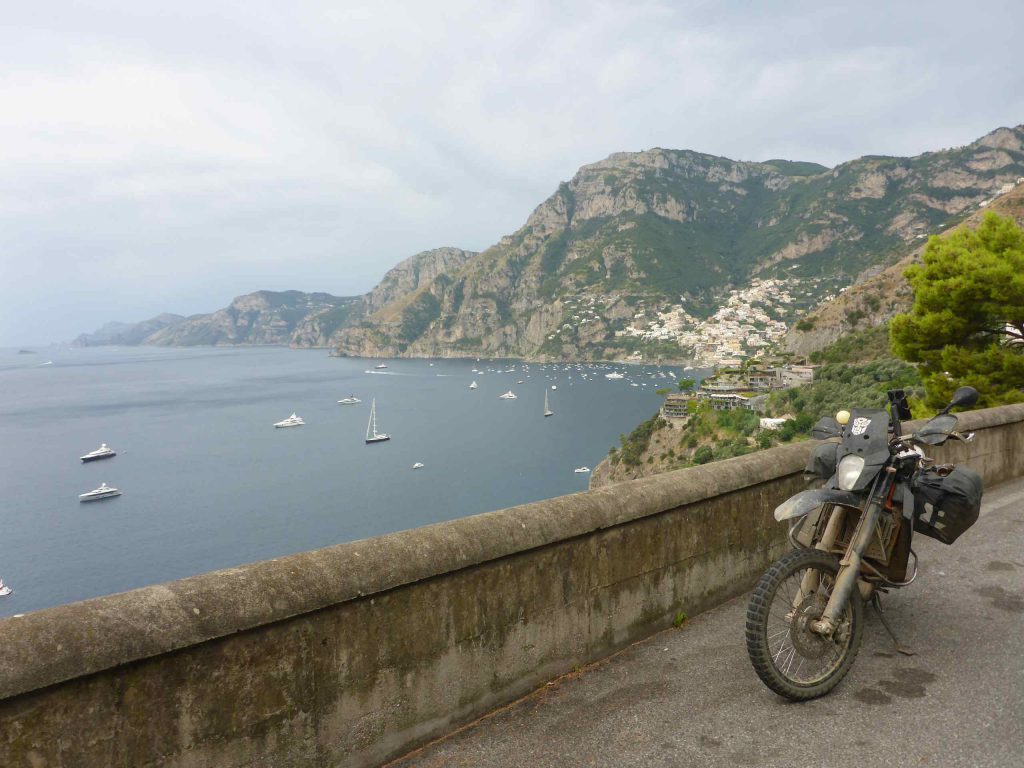 we reached …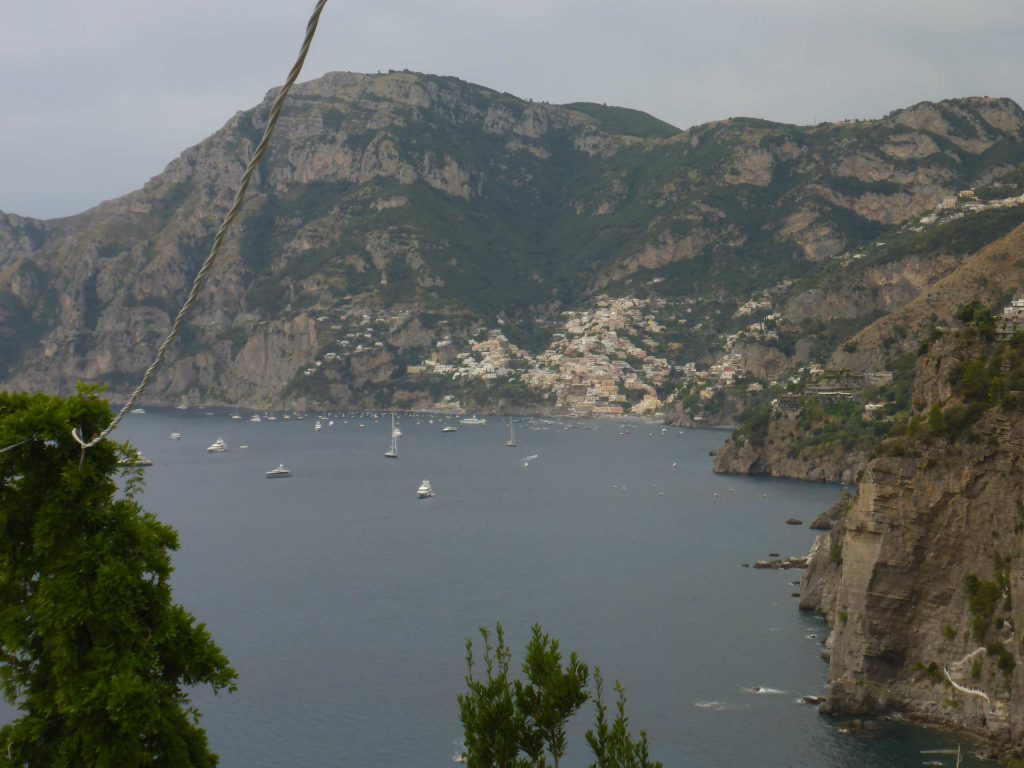 the bay of "Positano" which is surely one of the most popular villages along the whole Amalfi Coast. Besides …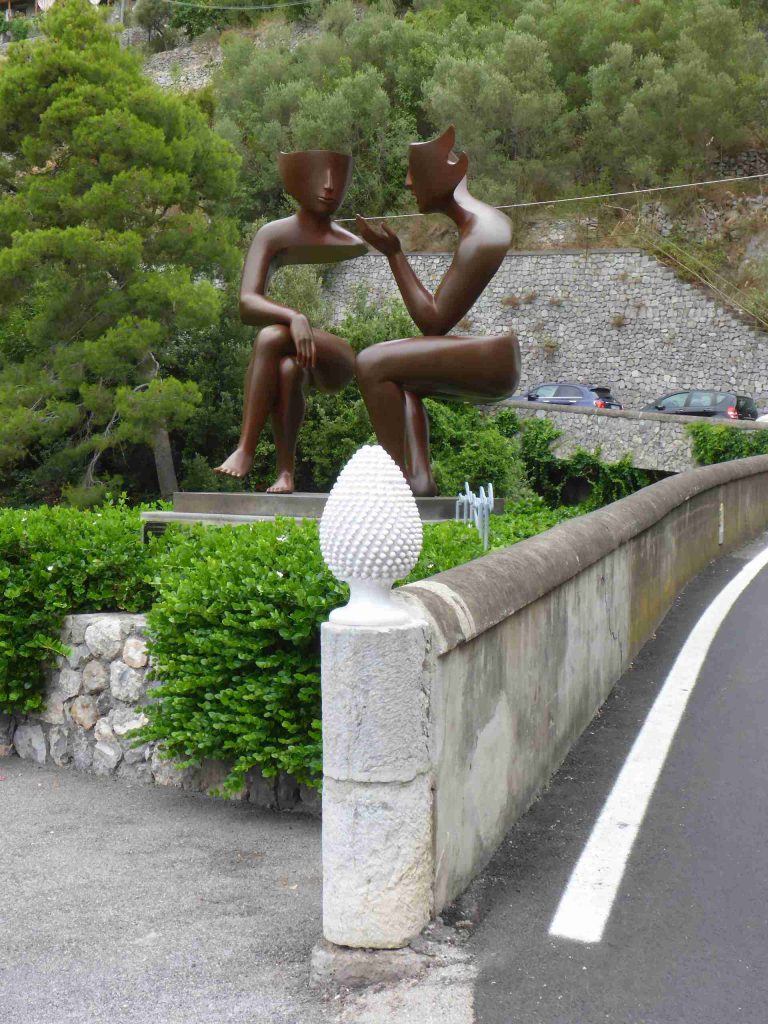 plenty of art, this part of Italy is also well known for …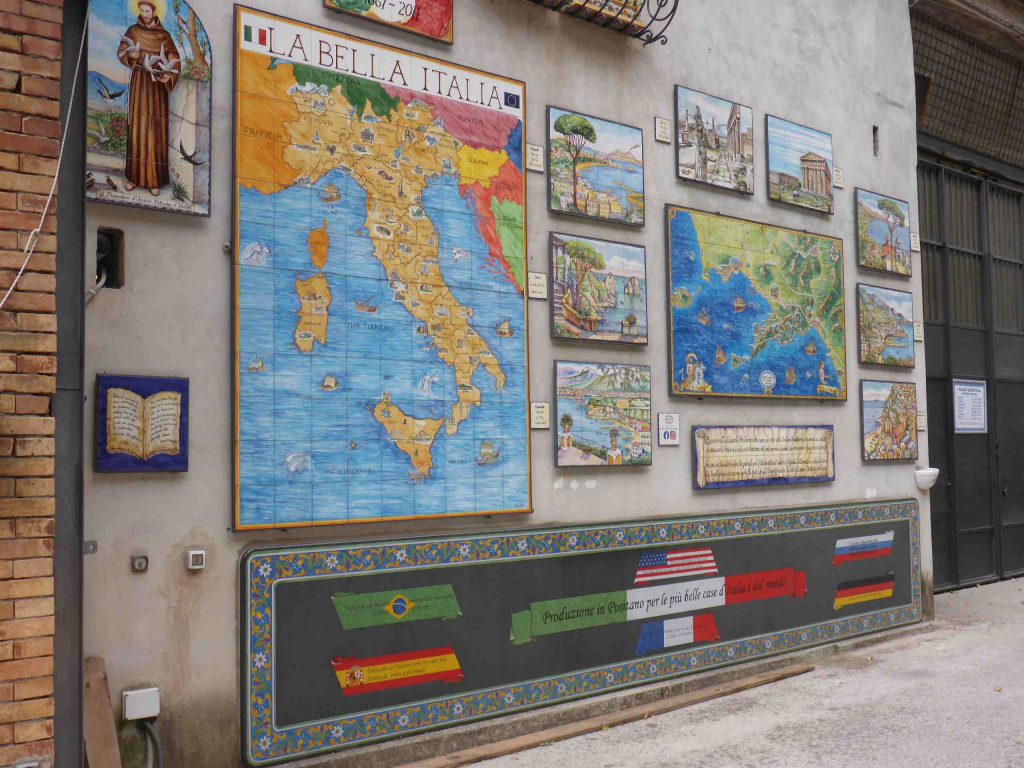 its detailed and colorful tile-craftsmanship like this ones above, mostly for decorative uses or the …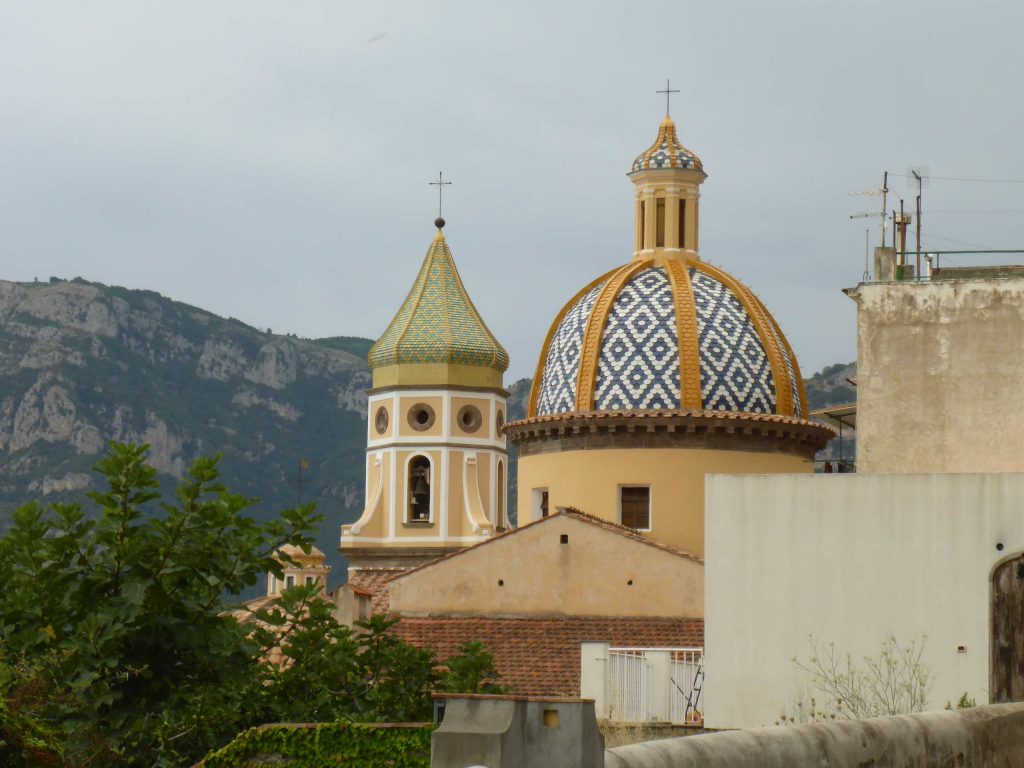 colored shingle-patterns on the roofs of the wealthier buildings. The Amalfi Coast is also well known for its huge Lemons and plenty of different lemon-products.

After taking a last glance …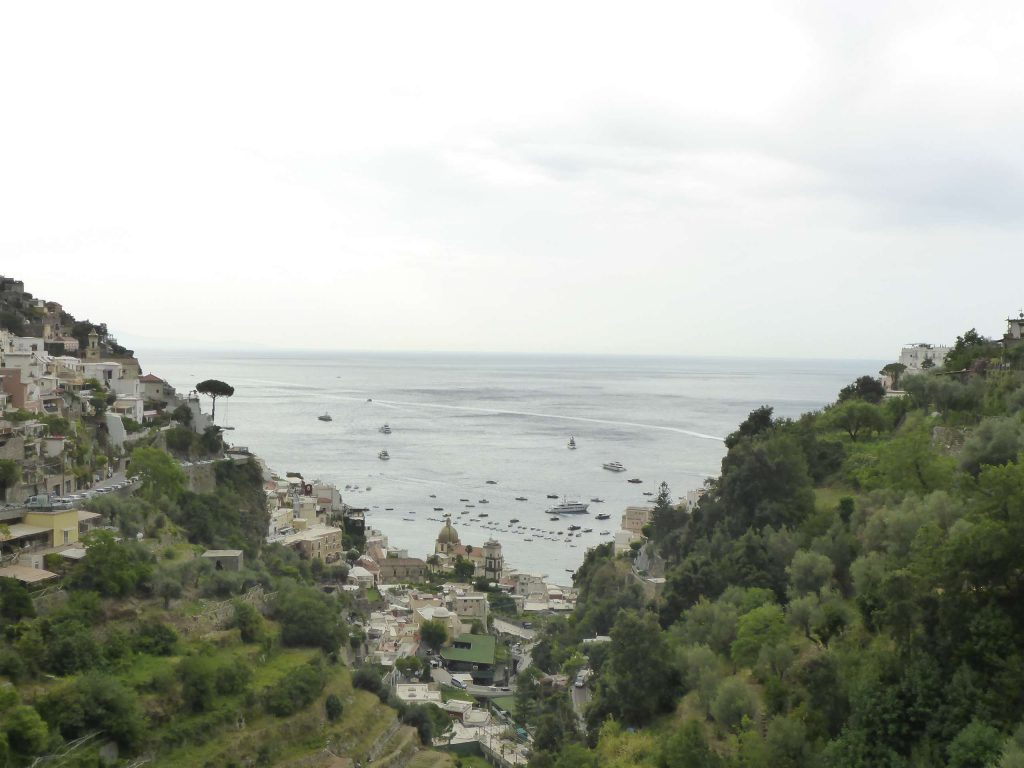 over the Mediterranean Sea we left the Amalfi Coast and rode further into the backcountry, for a while onwards the …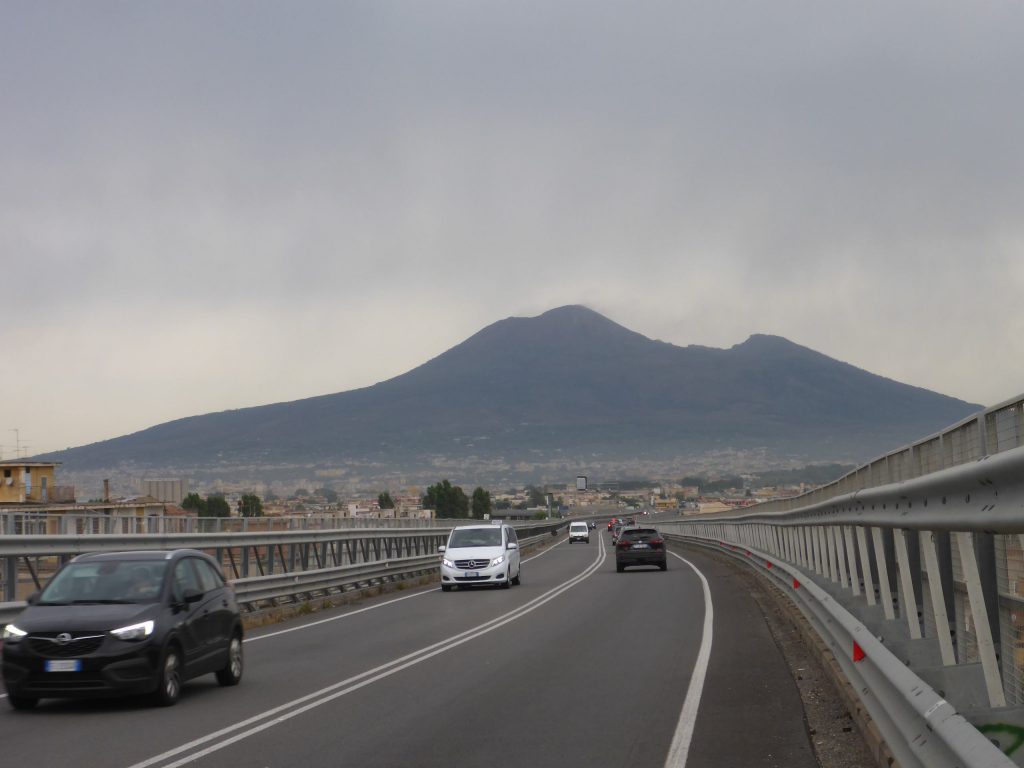 well known Mount Vesuvius, sitting enthroned above the megacity of Naples, which we didn't visit. We also left the famous ruins of the destroyed roman city Pompeii, located at the volcanos feet aside and rode further …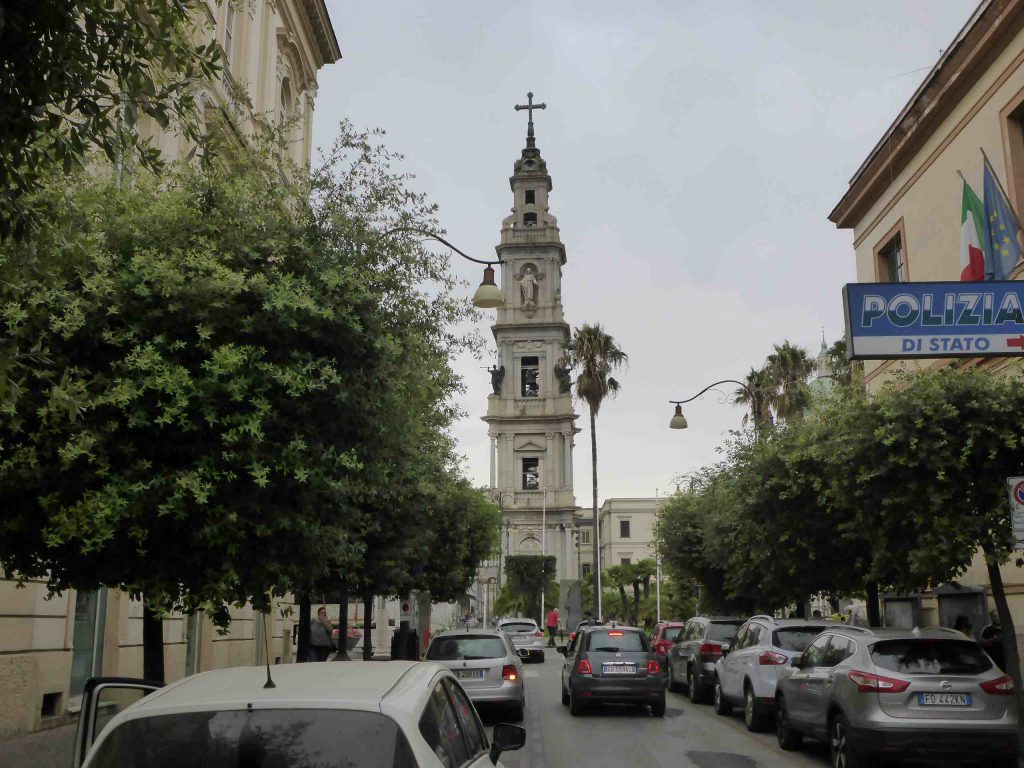 northwards through …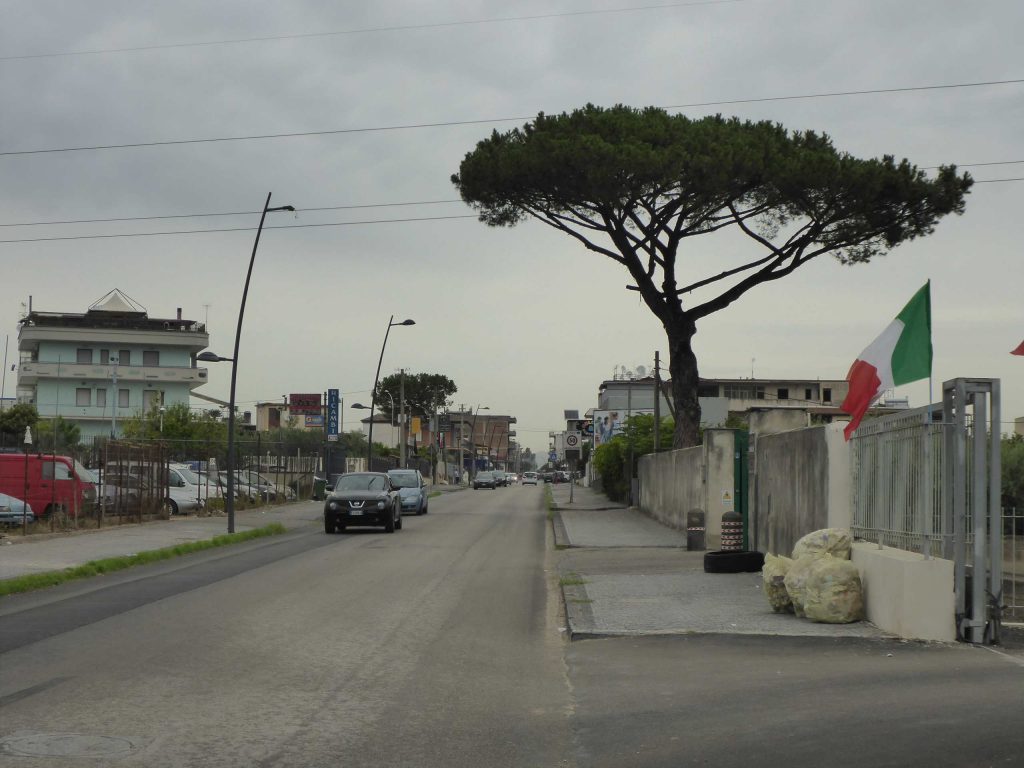 the dense populated …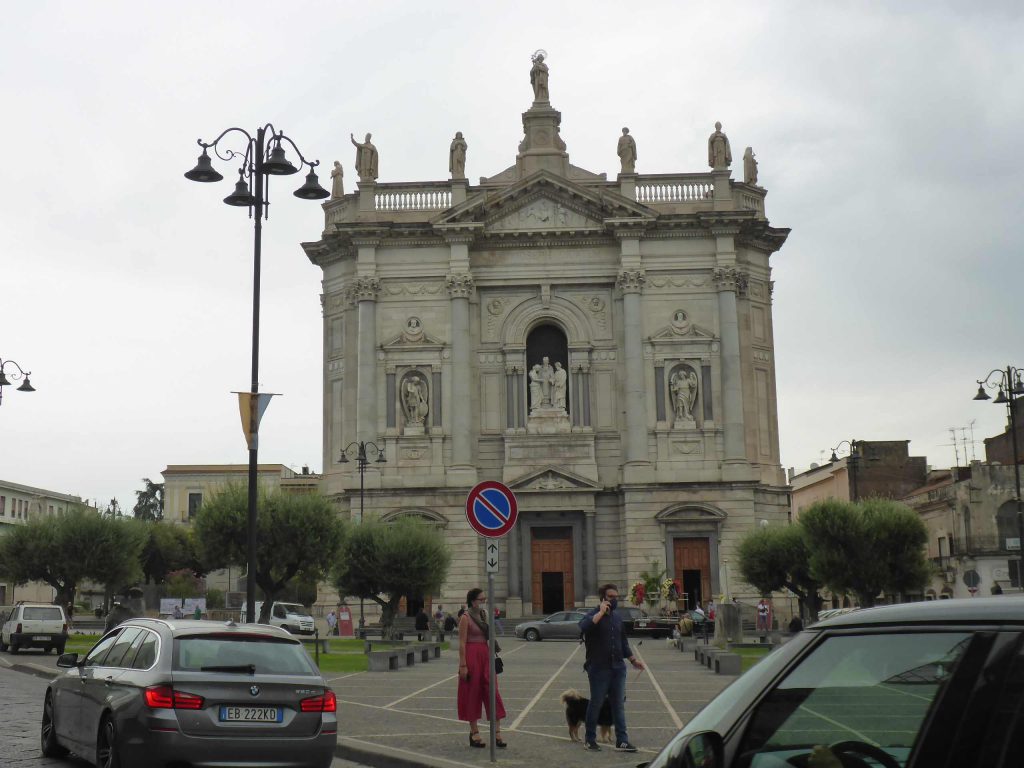 suburb areas of Naples. Finally …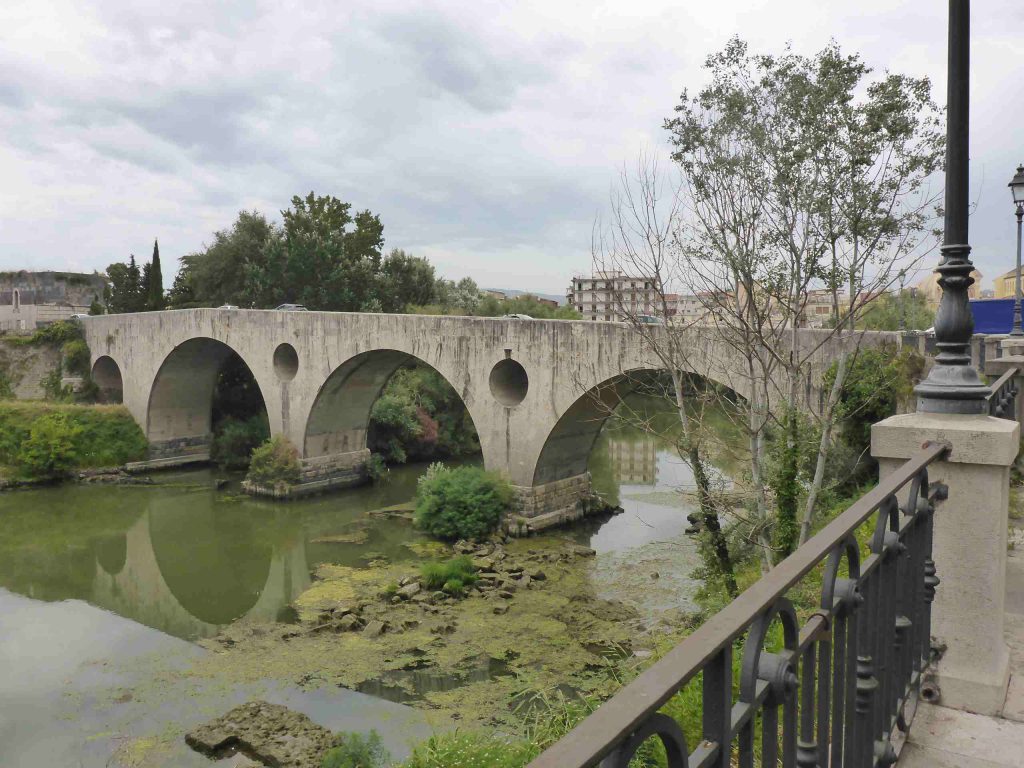 the edge of the dense populated regions had been reached, and after …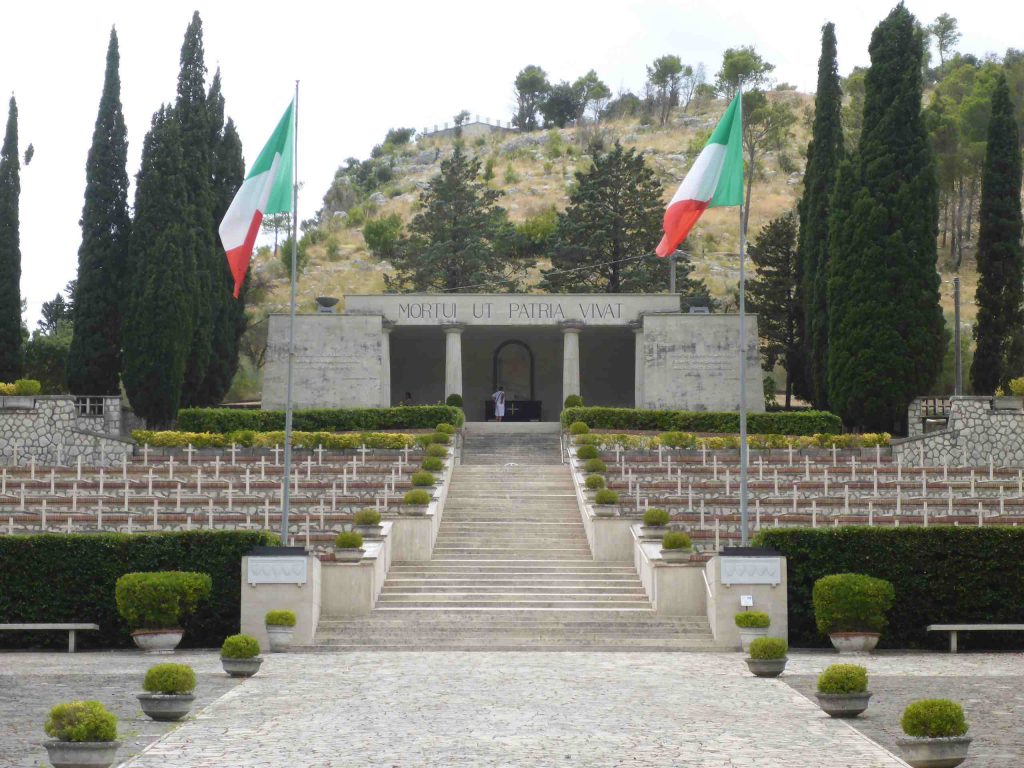 a stop at a big war monument/cemetery somewhere aside the road …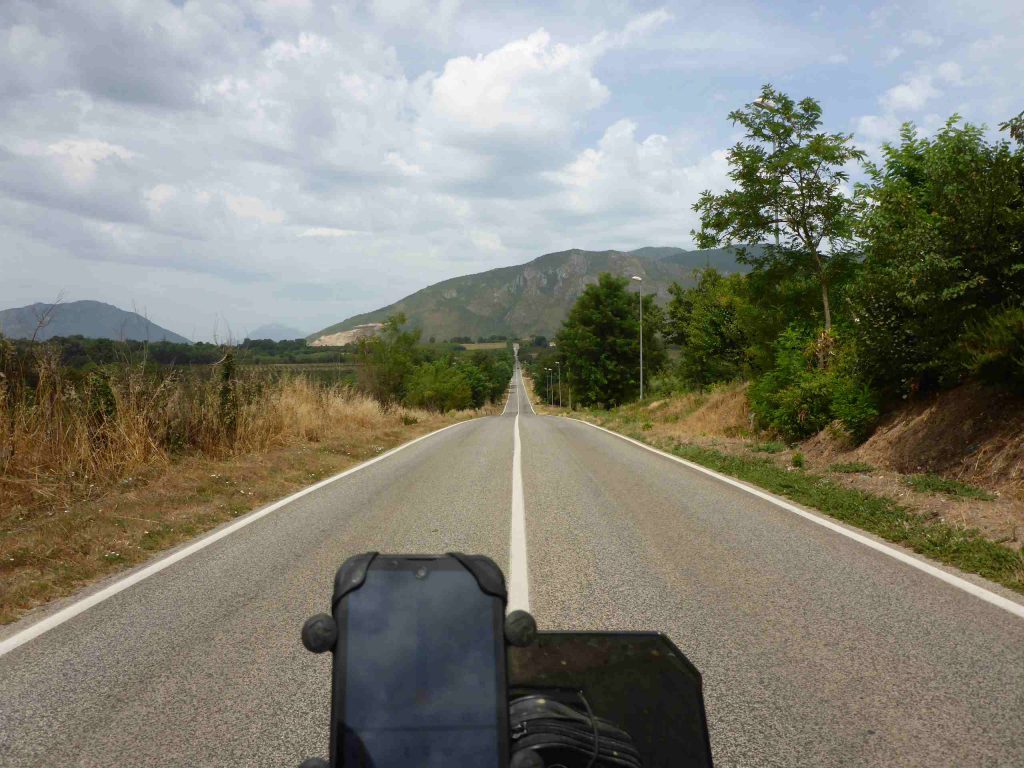 Чернотa and I travelled again through more pleasant …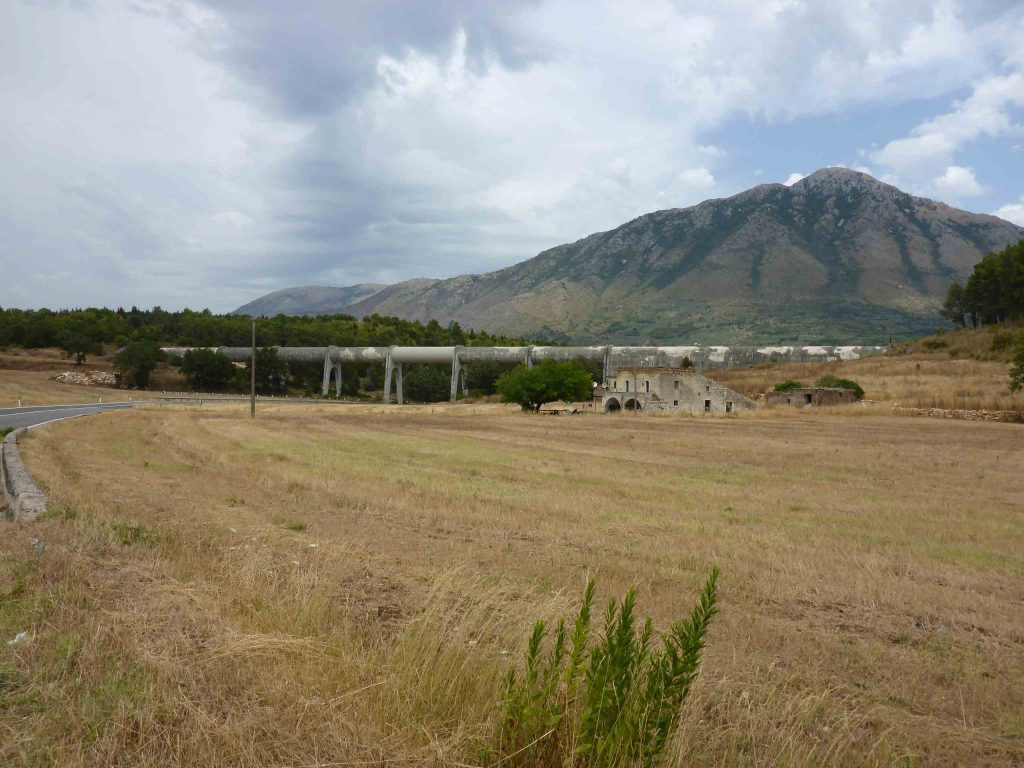 regions of the Apennines Mountains, back country. At midday, …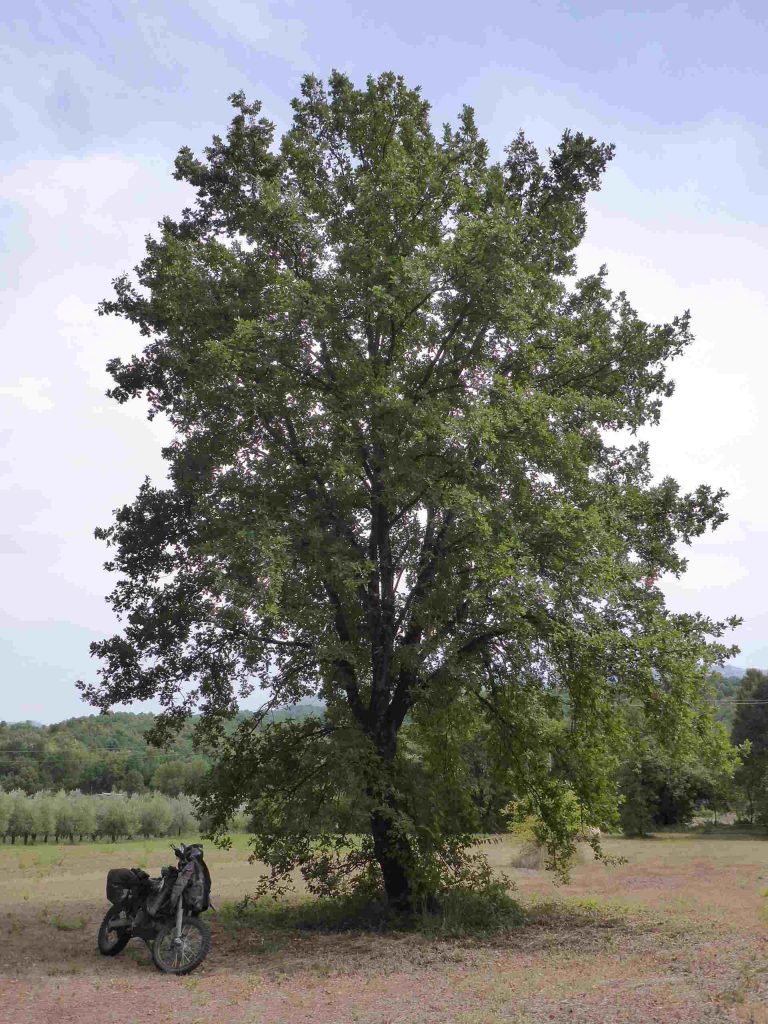 it was time for a break in the shade of this tree. I took a few …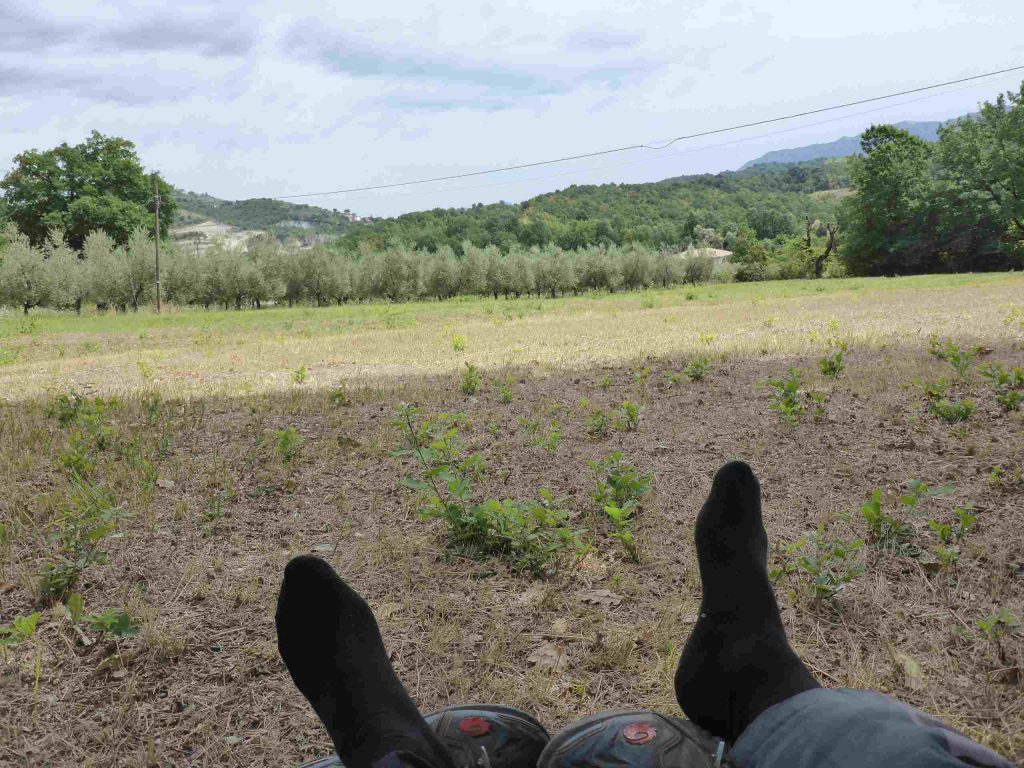 nuts out of the supply and took of my boots. Lying in the shade and munching nuts I rested surely for about 45 minutes.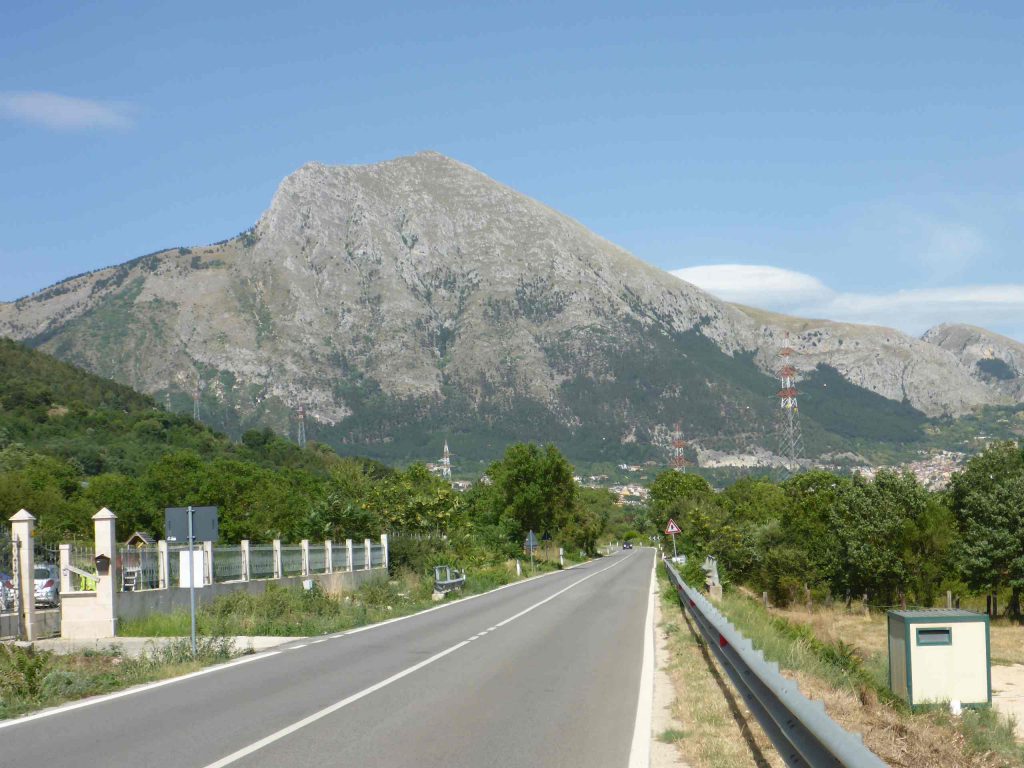 The weather in the heart of the Appenines Mountains was great, and it was …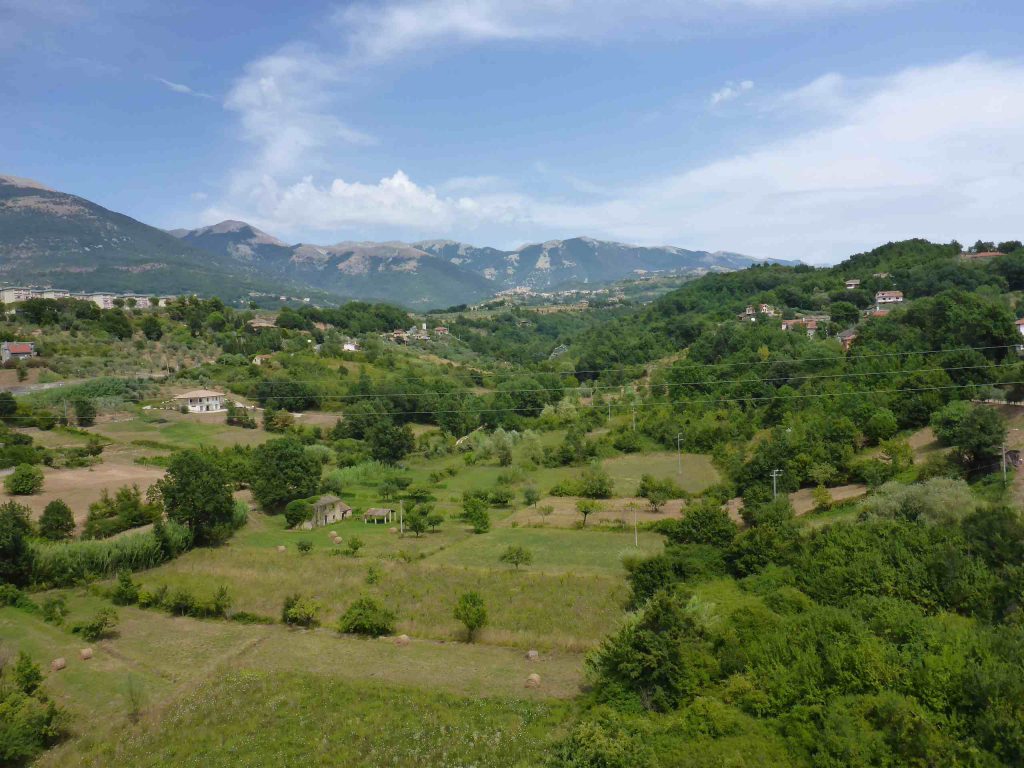 a real pleasure, …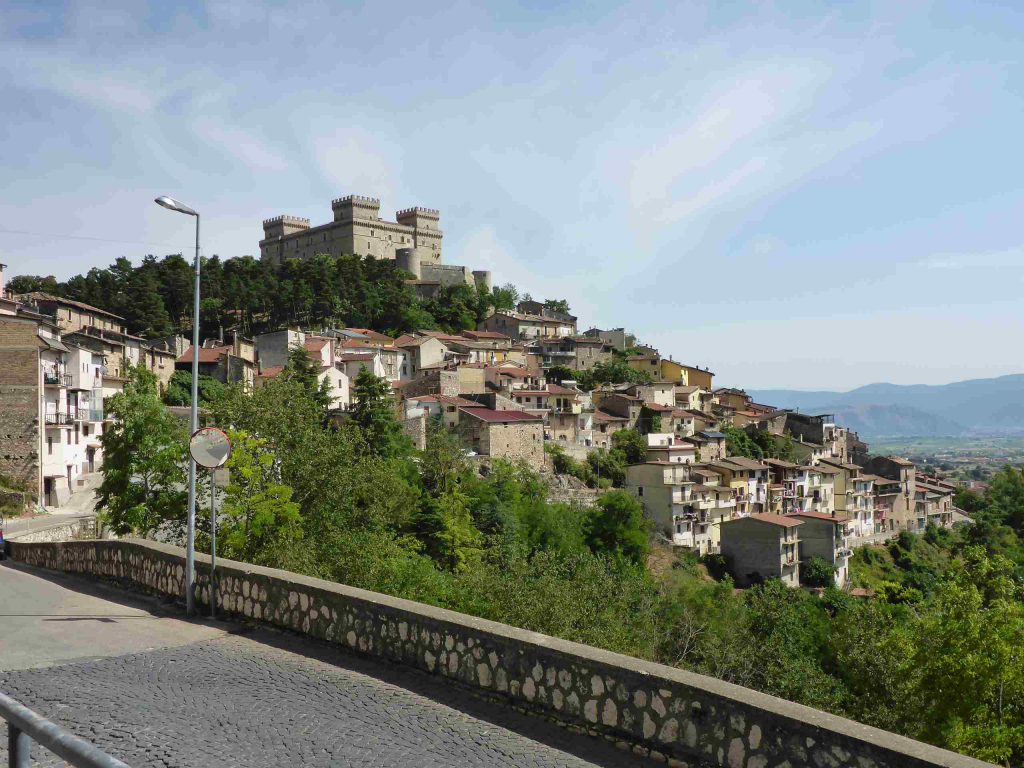 following further, …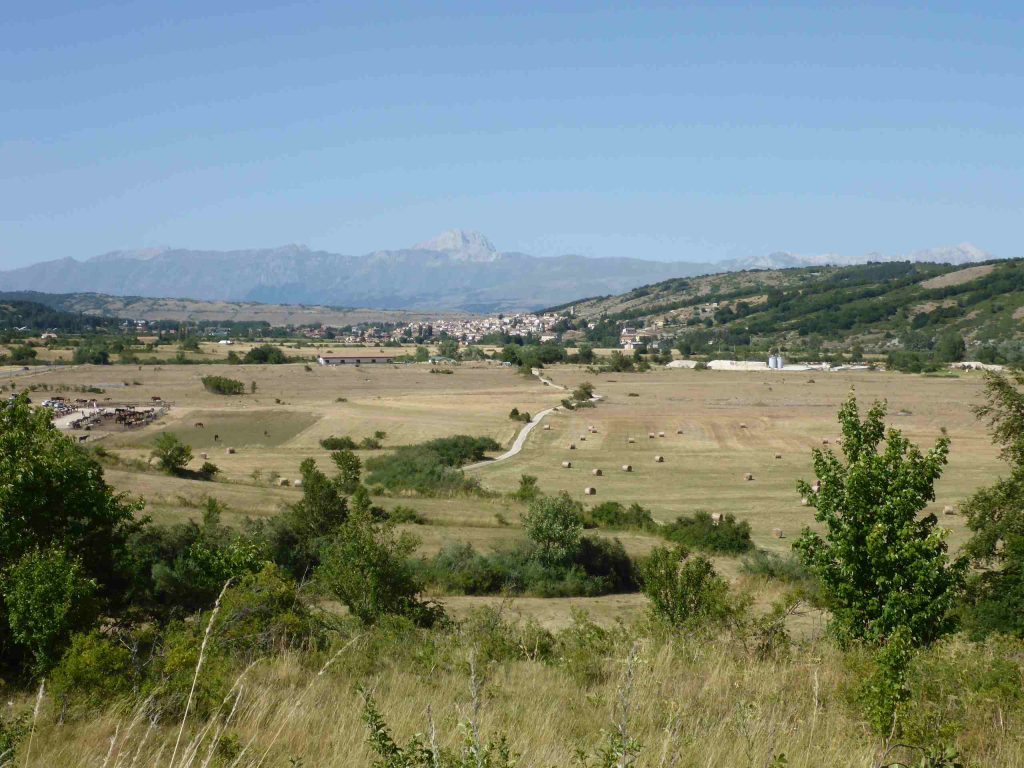 this, for me …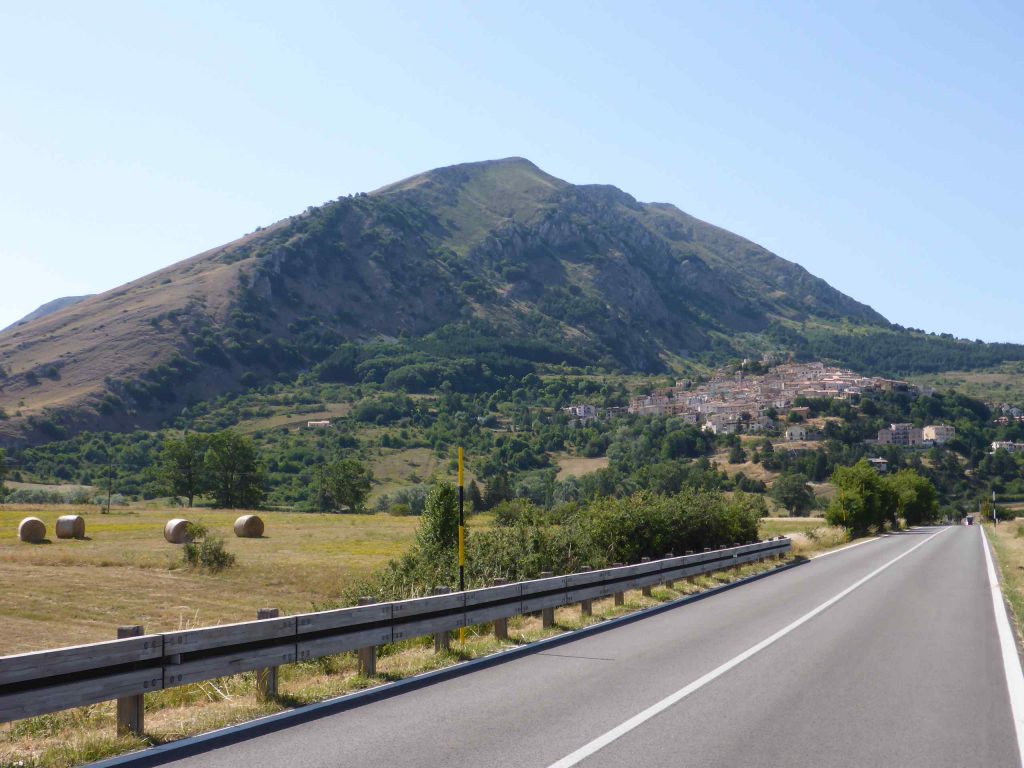 until this time, completely unknown …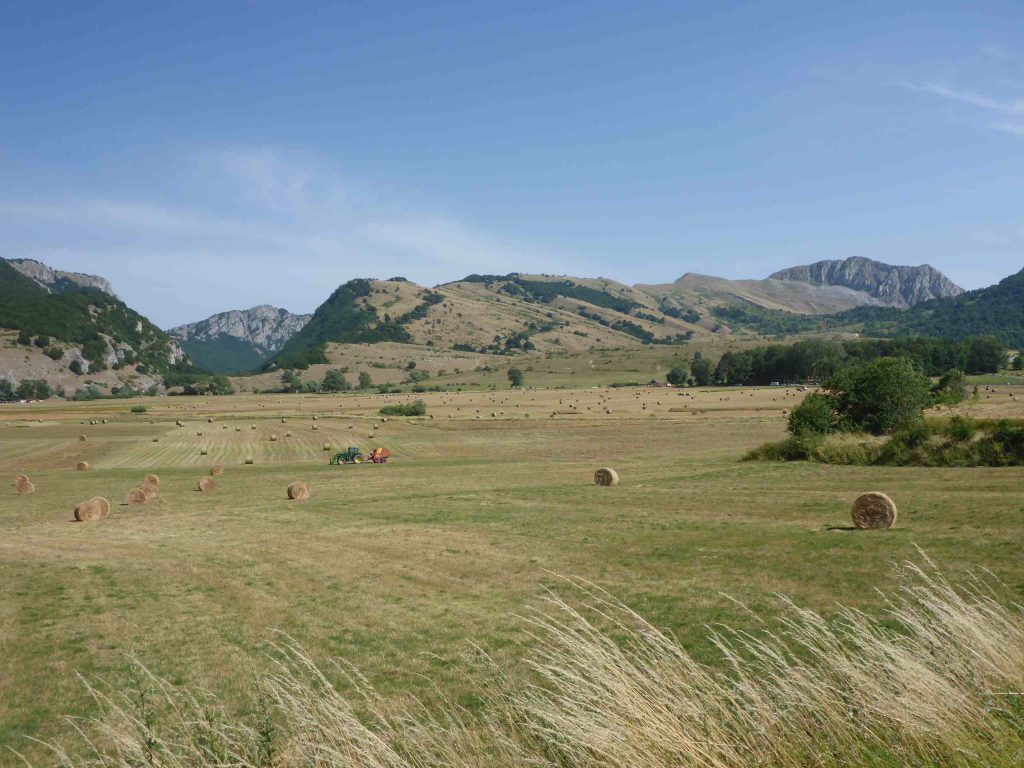 part of rural Italy.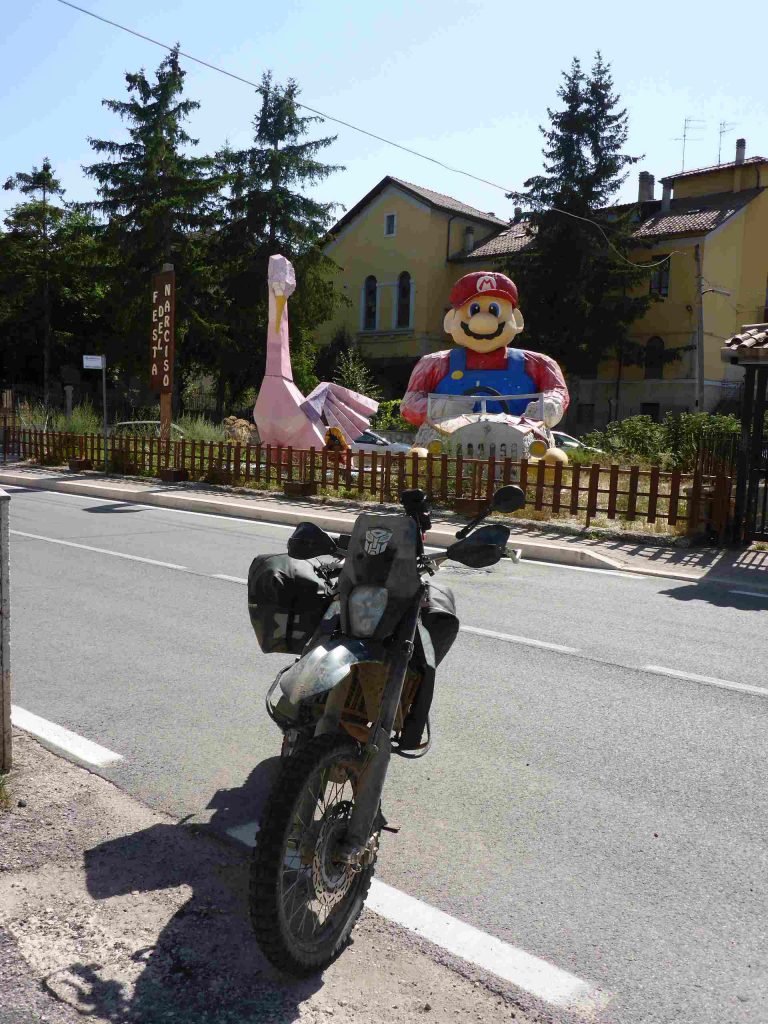 First I was surprised by …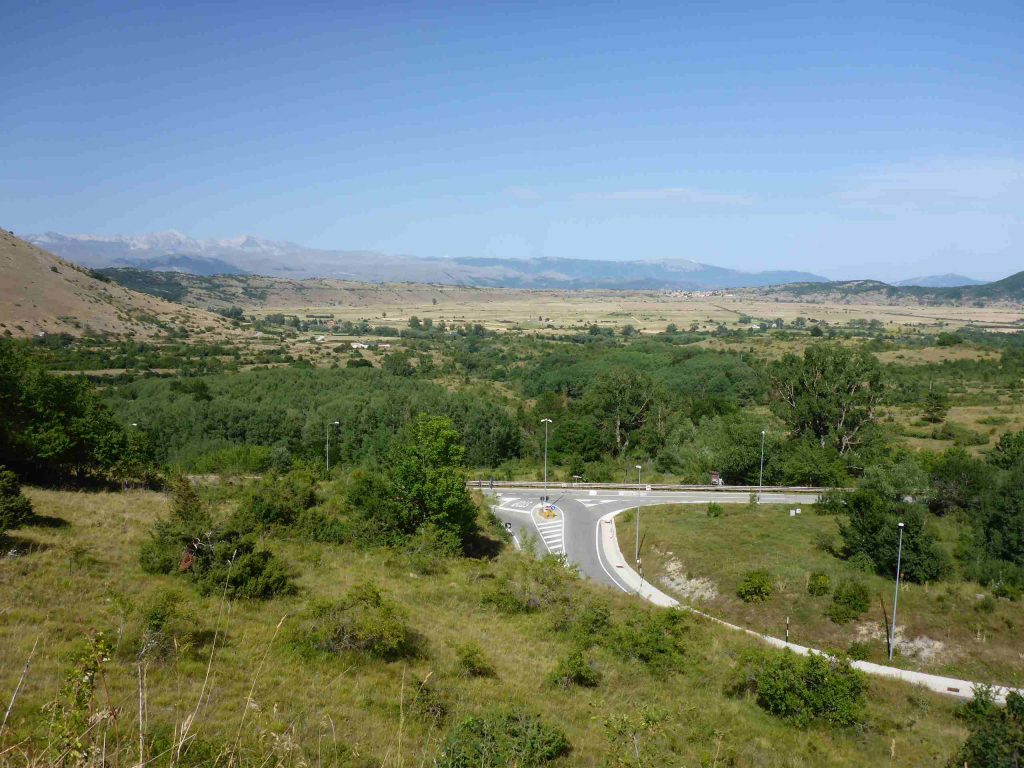 the vastness of the plains in this area, just for being …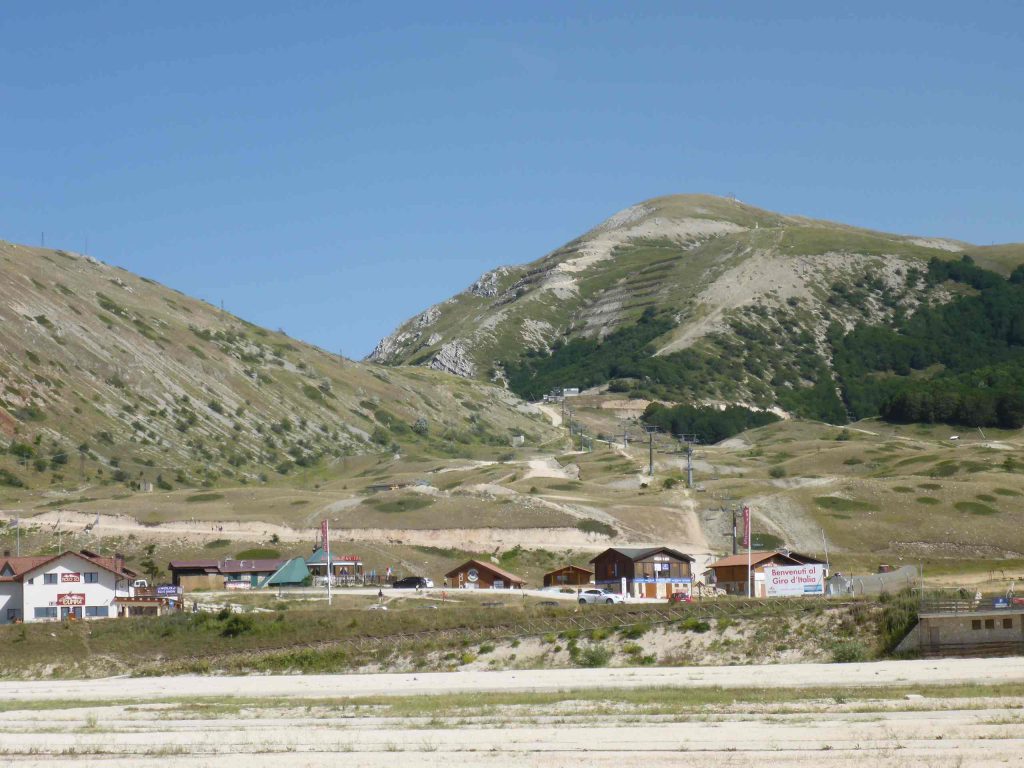 later even more struck when …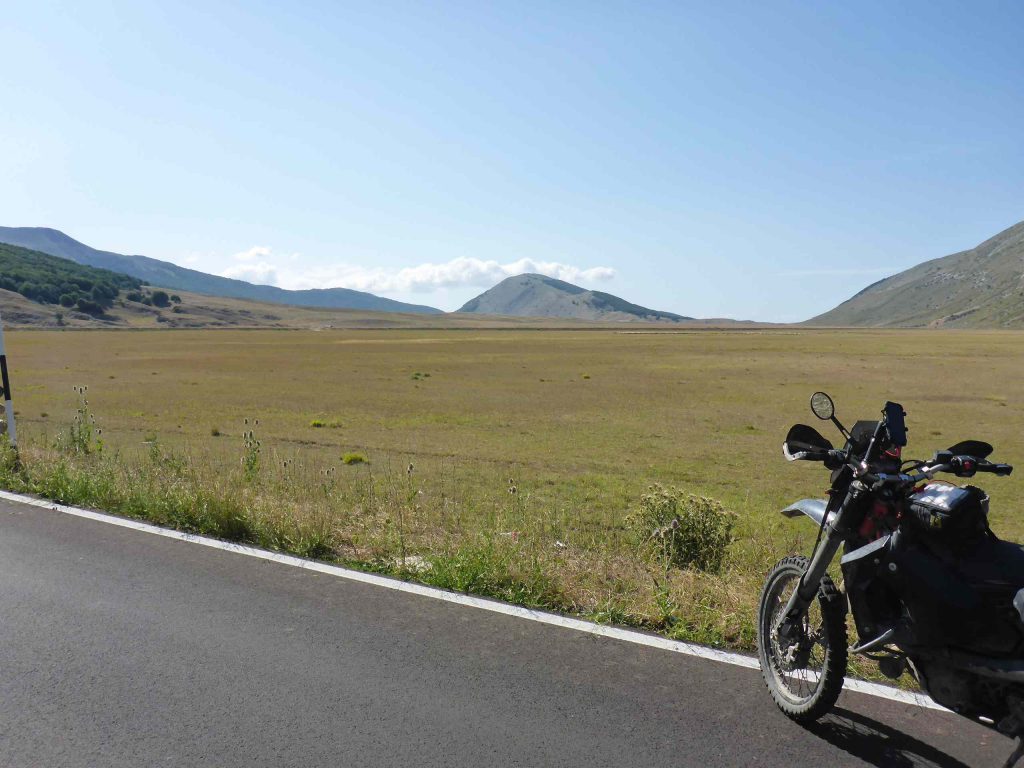 we reached a further, even more …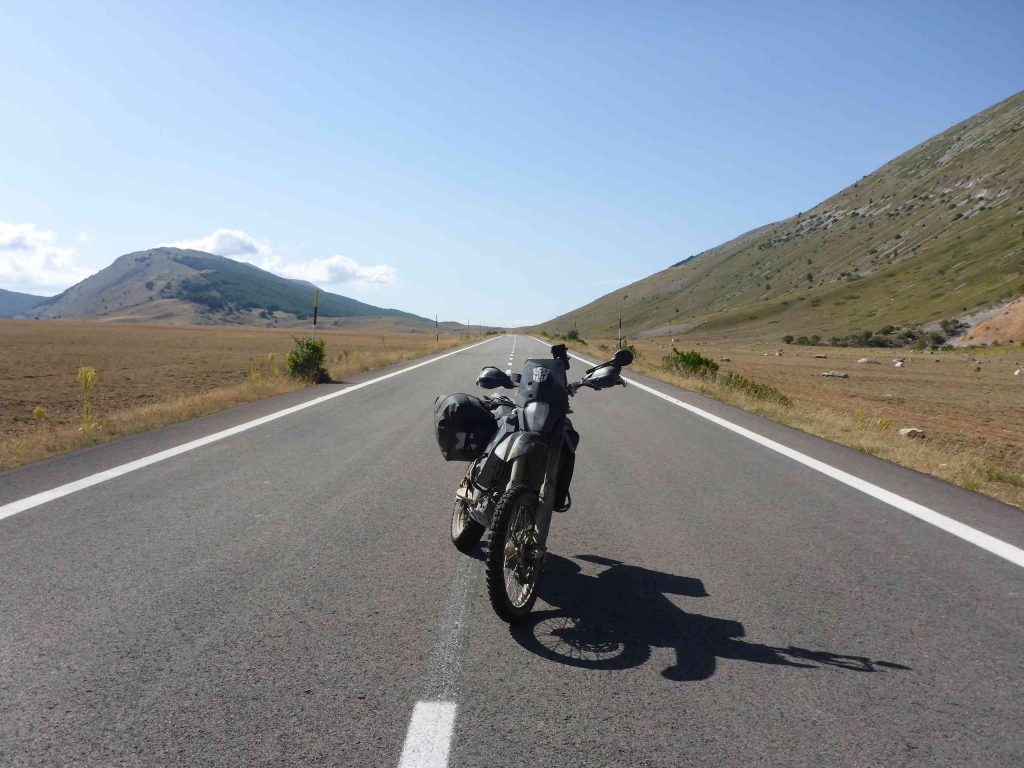 impressive high-plateau-plain.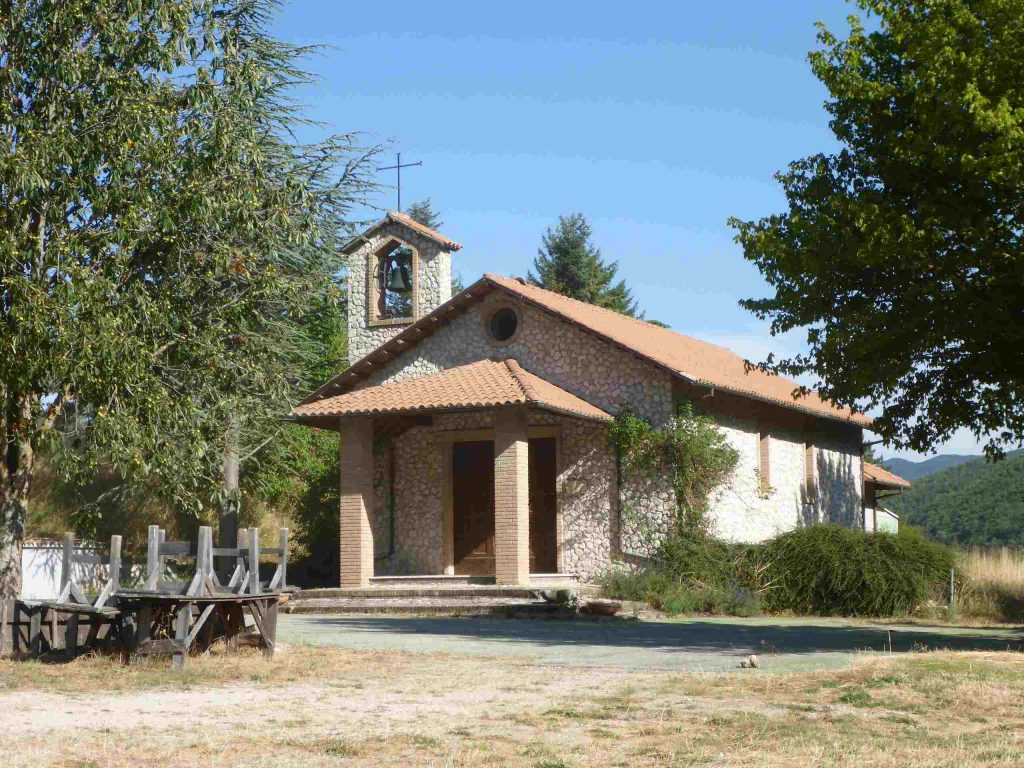 After a fuel stop and obtaining some food in …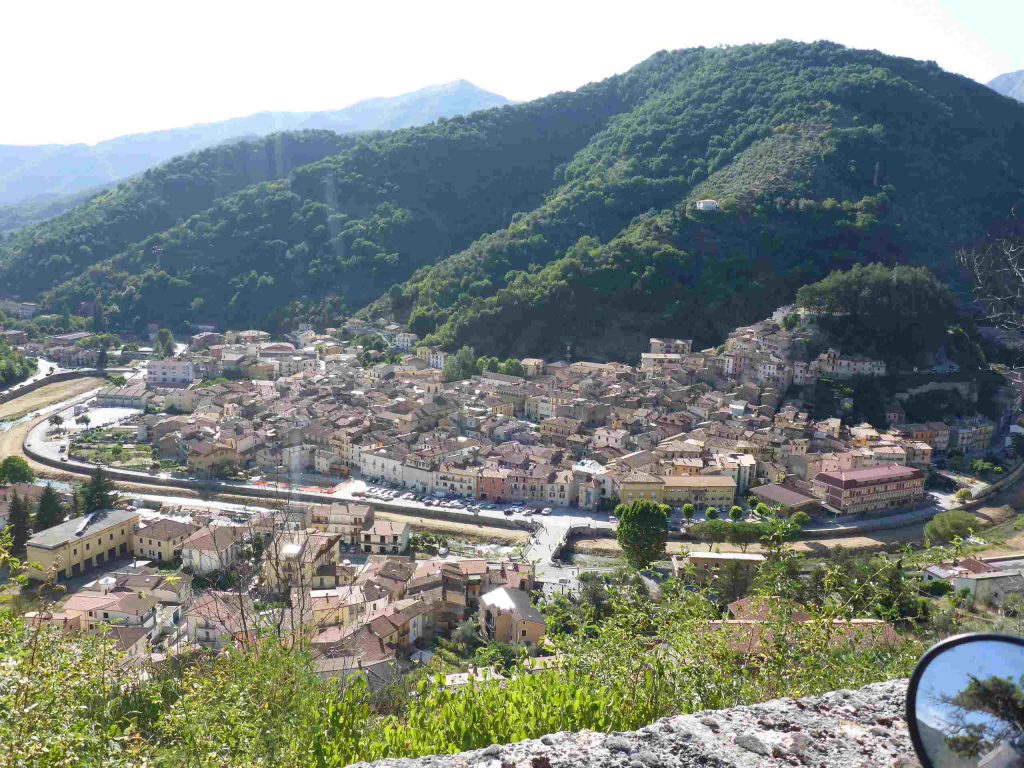 the village Antdrodoco the …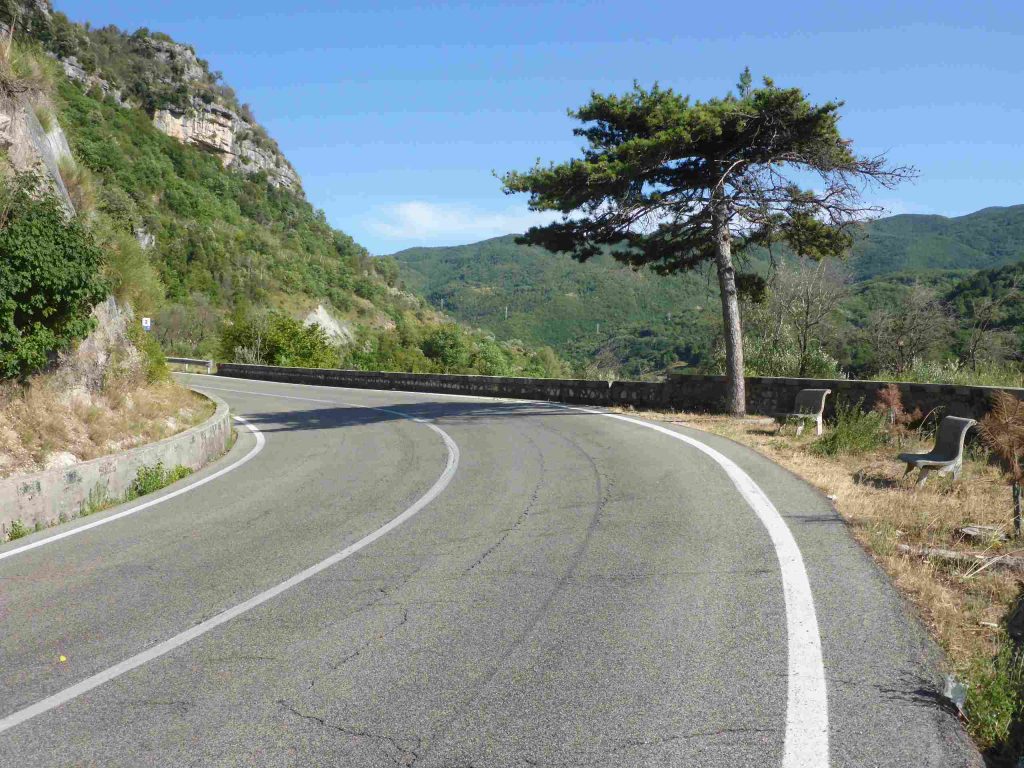 ride continued along a great road through the hills for another hour. In the early evening, it was time …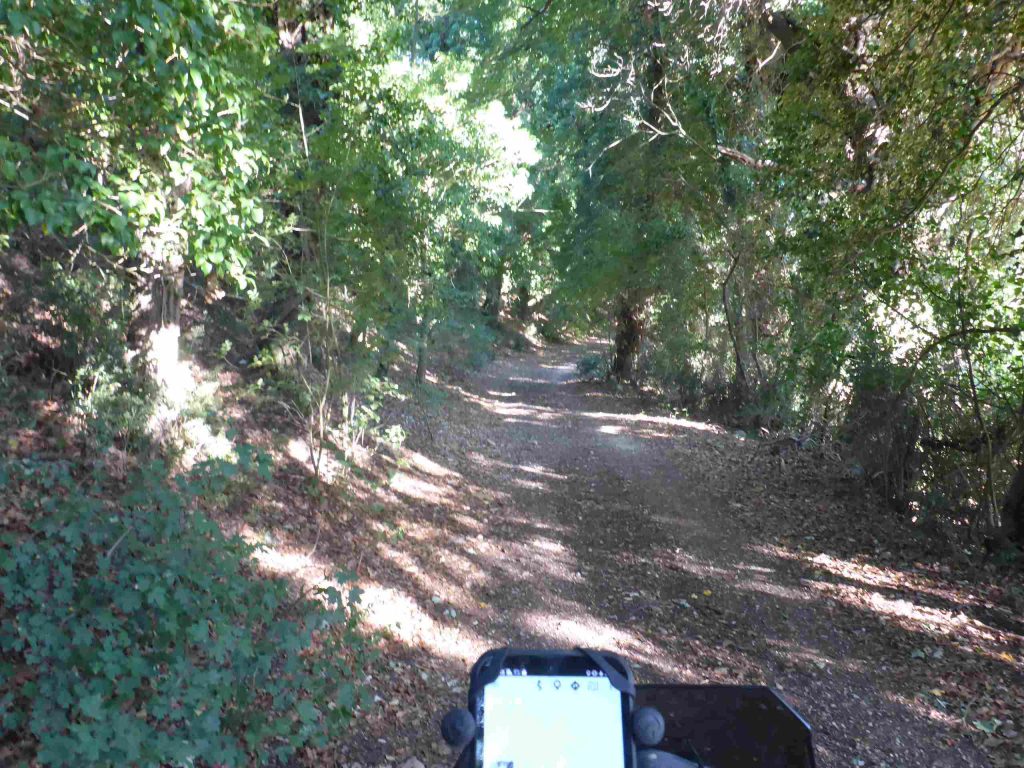 searching a wild camping place. This time it took a while till a …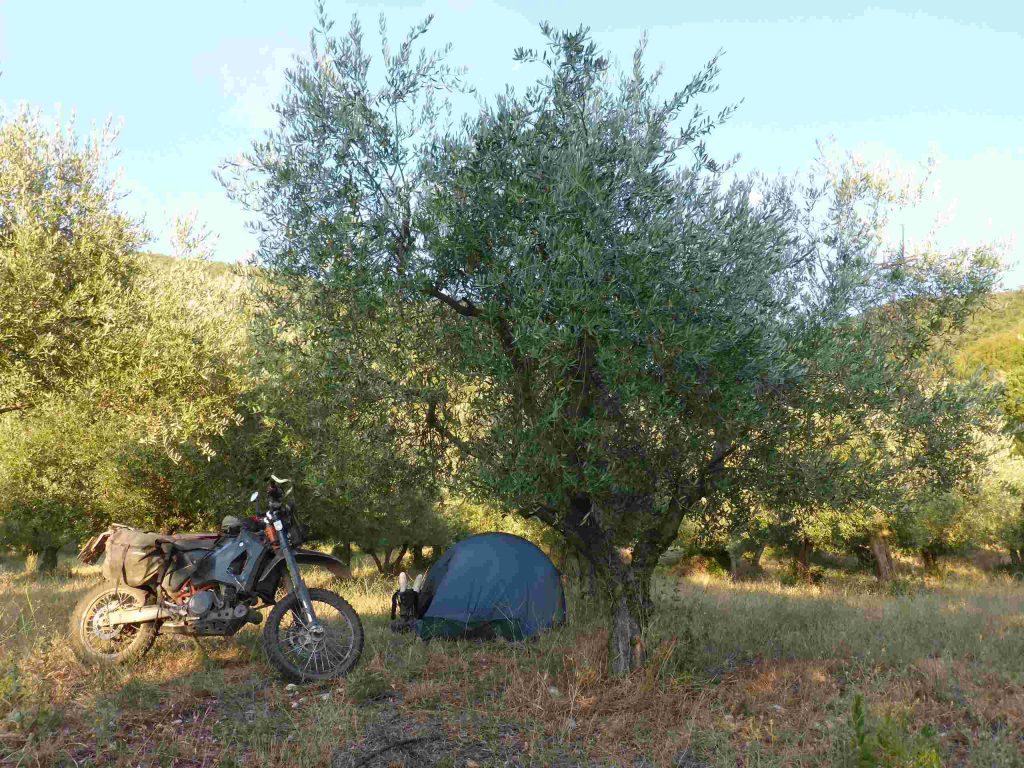 proper spot was found in an olive plantation. When the tent …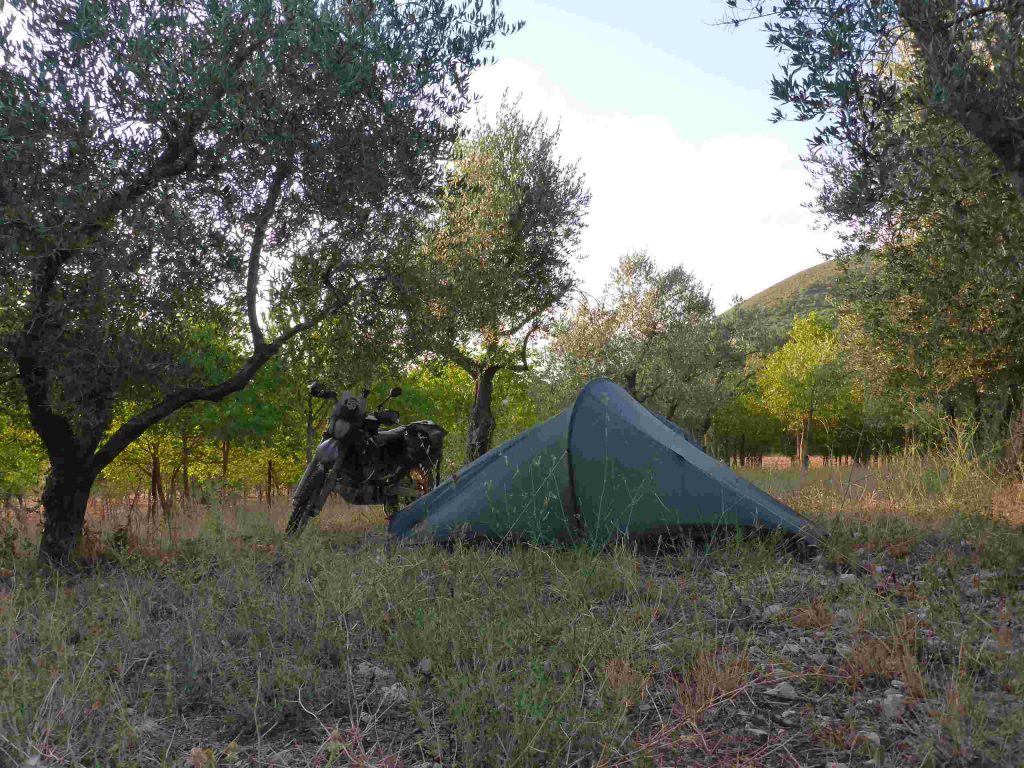 was up, I added …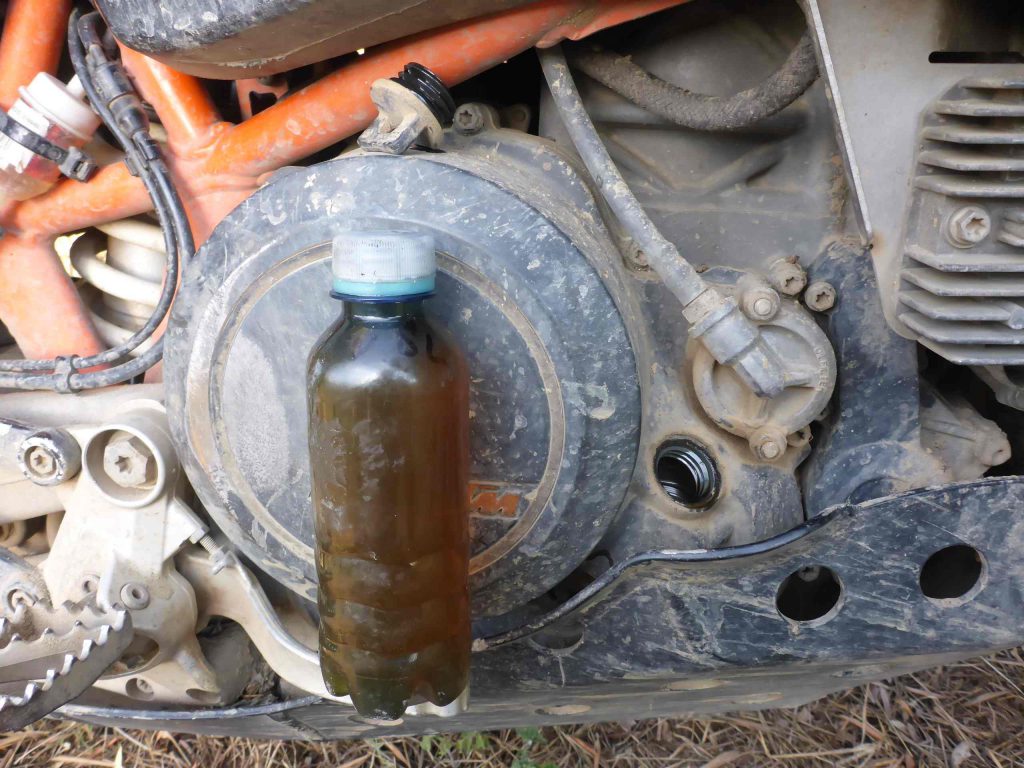 about 0,2 liters of oil to Чернотas engine (for the first time since about 4000 km or 2500 mi since the last oil change).
That amount equaled the same oil usage, like always in the past and made me optimistic, that, the still existing ticking noise coming from the engine isn't crank-train related. If a crank-train bearing was going to fail, the oil consumption probably would have increased due to increased play of the main moving components-mainly the piston. I also had to remove …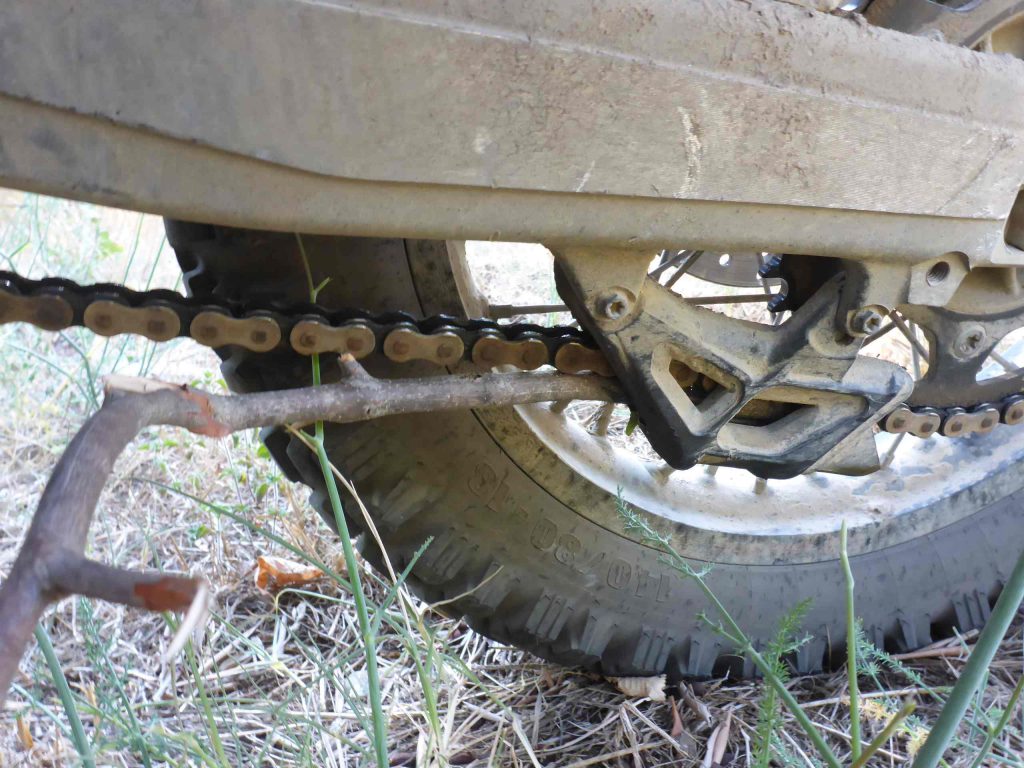 a jammed branch out of the chain guard, which was collected along the last few meters. After that I had an inspecting eye to the chain clip, which was still in place, and also to the luggage mounts. Everything was fine, so it was time to relax and …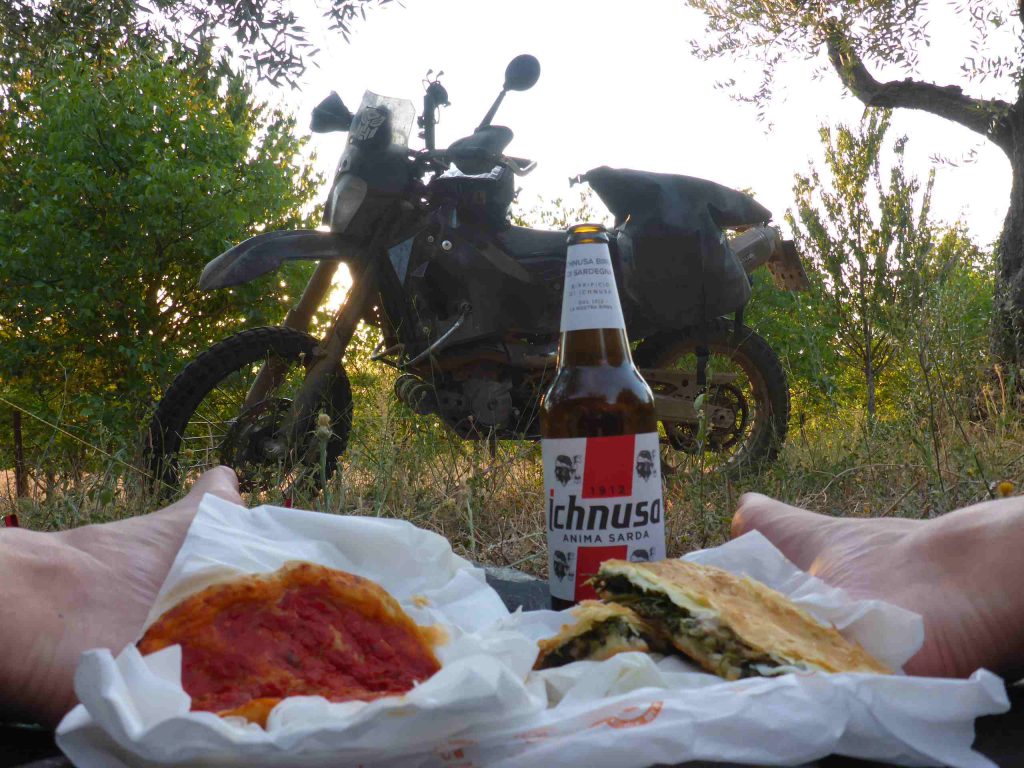 for having dinner. This evening I got me a big bottle of Ichnusa-Beer, brewed in Sardegna and some homemade spinach/cheese and tomato pastry from the fuel station's shop. With …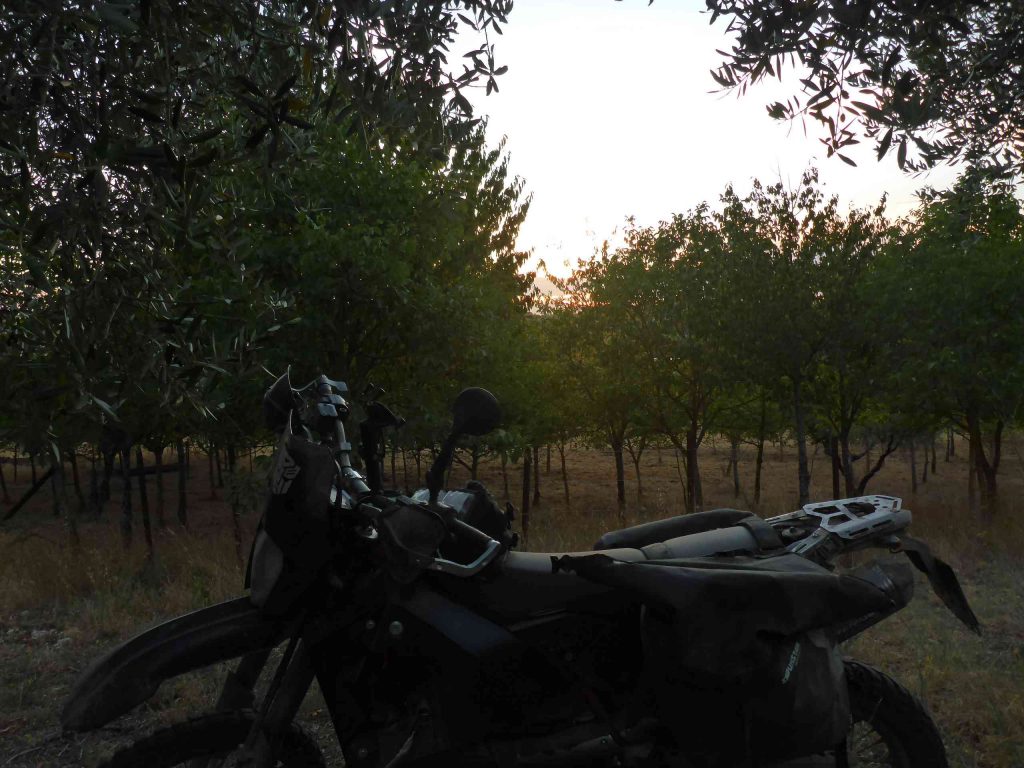 sunset hundreds of crickets started chirping in the surrounding, what was somehow very soporific to me. 🥱
Despite the upcoming tiredness, I read further on in my e-book, surely till midnight. 🤓
Total covered travel distance of this riding day: 490 kilometers or 305 miles
To be continued …