"THE DRAWING"
So let this travel report begin: For introduction, I'm serving you with this post a short overview about my main journey of 2021, which finally led me and my black beauty Чернотa through six different European countries. This is "The Breakdown Ride 2021":
In the wintertime 20/21 I began to plan this journey which is a simple mix of back country roads and parts of the famous and ongoing growing gravel-road-network "Trans-Euro-Trail". I planned to ride about an average of 400 km or 250 mi each day. With this intention this in total 5500 km or 3400 mi long was planned to last exactly two weeks/fourteen days.
Before describing the route in detail, I would like to thank all the linesman (the people which are scouting these trails) for their efforts. It was again a real big pleasure to follow this astounding trails! Thank you! 🍻
The Route: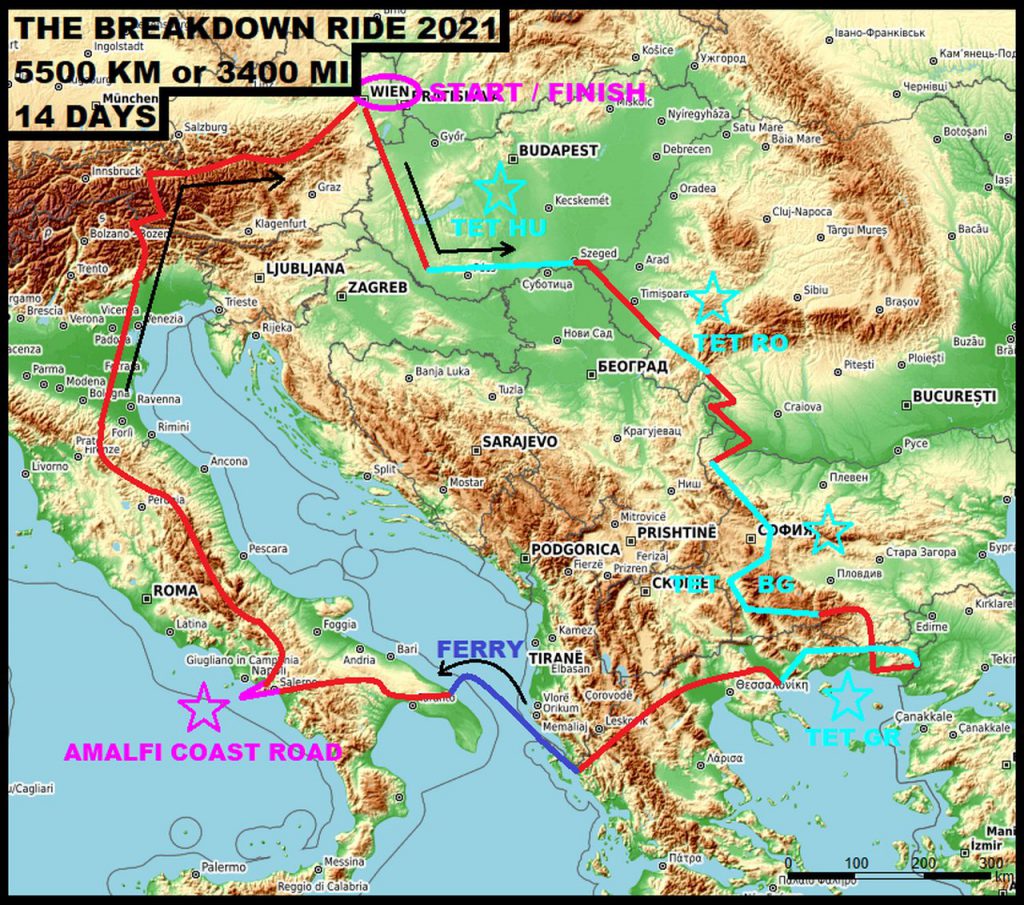 As you can see on the map above, my journey started in Vienna/Austria. Чернотa and I passed the two big plain-lakes Lake Neusiedel/Austria and Lake Balaton in Hungary. In the south of Lake Balaton, the first piece of the Trans Euro Trail was entered, which led through some calm and woody hills eastwards, right through muddy and sandy southern Hungary, til we reached the city Szeged.
There the direction turned to south-east and Romania was entered. After another vast plain, a very short piece of the Romanian TET was ridden and we visited the "Iron Gates", where the stream Danube fed its way through the Carpathian Mountains.
Next was Bulgaria, where we rode some very remote areas through bear country next to the border with Serbia and Greece. After arriving in Greece and a short stop at the Aegean Sea, Чернотa and I visited the border crossing point between Greece and Turkey, where we entered again the TET.
From now on, the journey followed in dual-sport-manner the mountainous Northern Greek Territory westwards, until we reached the Adriatic Sea. With an unharnessed ferry, we crossed over to south-eastern-Italy. We traversed the Italian-Heel and hit north along the famous Amalfi-Coast-Road. Near the city of Naples, it was time to leave the overcrowded/dense populated coastline area for some easy inner-country roads, which led along the Apennines Mountain Range northwards. Near the city Ferrara/Italy, we left the Apennines Mountains and hit back to my homeland country, Austria.

Like always, the plan was simple: First: Trying to do as much wild camping as possible and second important was to get over all the things/troubles the ride threw onto us.
Such a journey is always a tire-compromise between road and terrain-performance. Because the ride happened in midsummer, I was expecting mostly dry conditions. So I mounted a …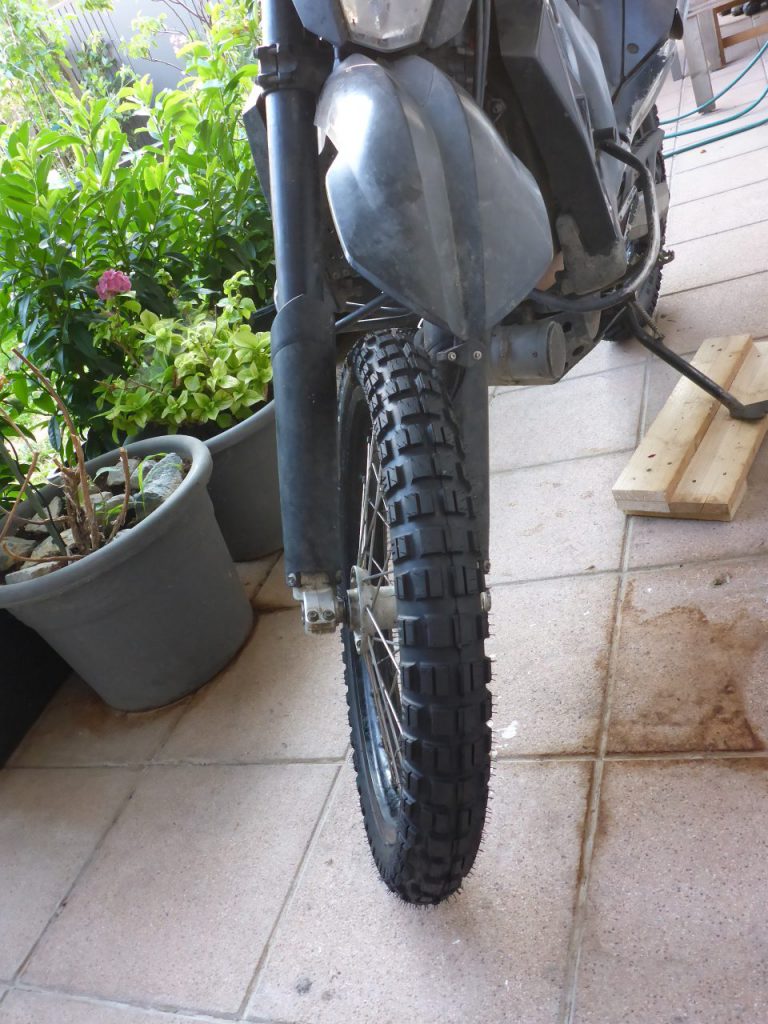 40/60 tire (Street/Terrain) on Чернотas front. Because of the length of the journey …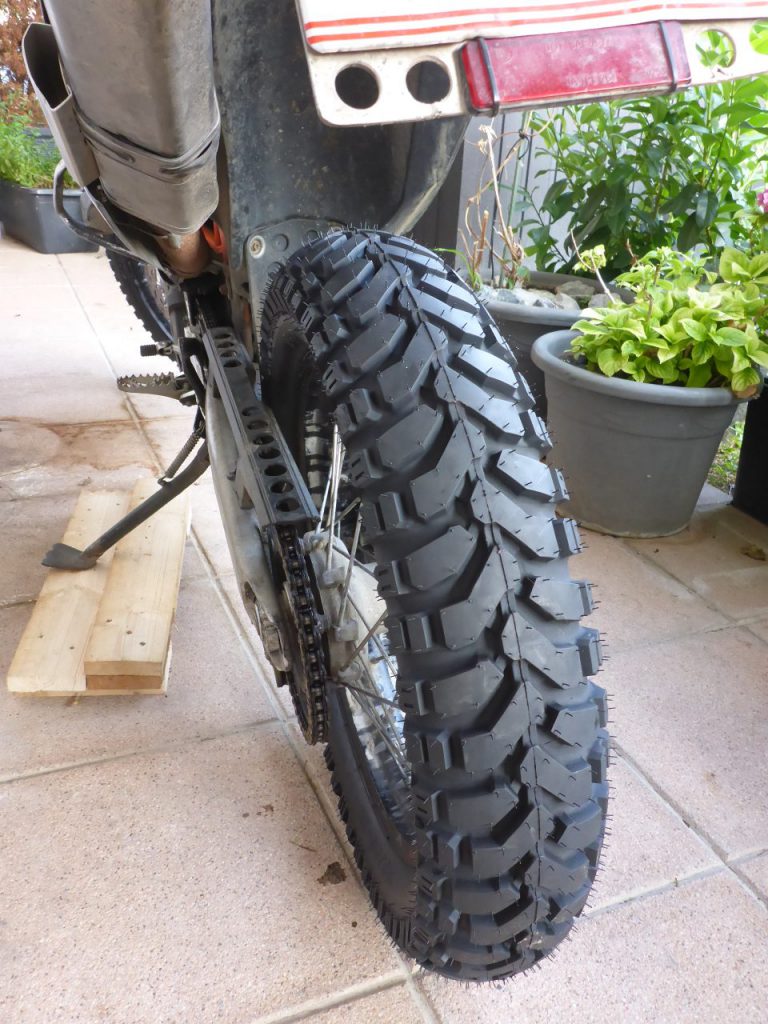 a Mitas E07 was put on the back, which is a 50/50 Tire according to Mitas.
After riding this thing for ten-thousands of miles, I would rather say it is a solid 60/40 – Street/Terrain Tire. Especially along wet conditions, it delivers weak side hold/traction performance. But in the opposite: Along Gravel, Rocks and Sand it is performing good. Especially low air pressure is a big benefit for the performance of this tire. Additionally, it has a very long life, which reaches up to +8000 km or +5000 mi.
Besides the tires, Чернотa was well-prepared after a big maintenance session was done to her.
While writing this, I just found out, that I had forgotten to make a "ready to go" picture from my black beauty Чернотa. Therefore, I found another one, from one of my last adventure rides, which will also fit very well: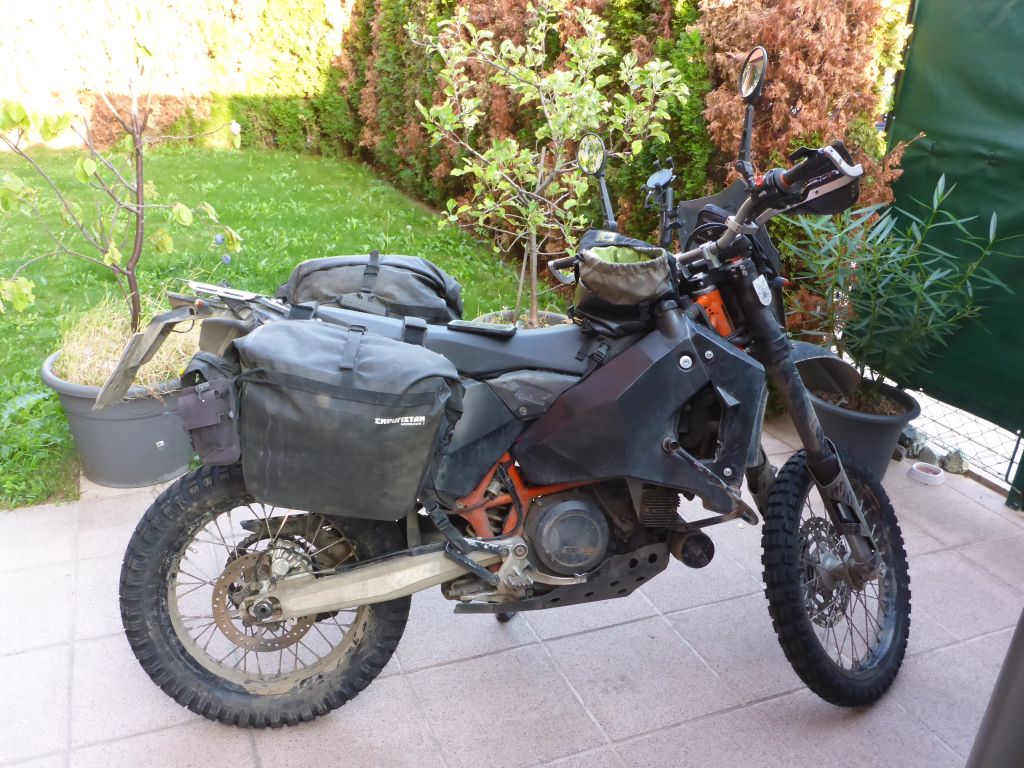 As you can see, I'm riding with less gear. A "Packing-Write-Up" you will find in the "Equipment Section" of this website.
So, now stay tuned for the riding report regarding the first adventurous riding day of this journey. It will arrive soon!